Regis Jesuit FBLA strikes gold at the state competition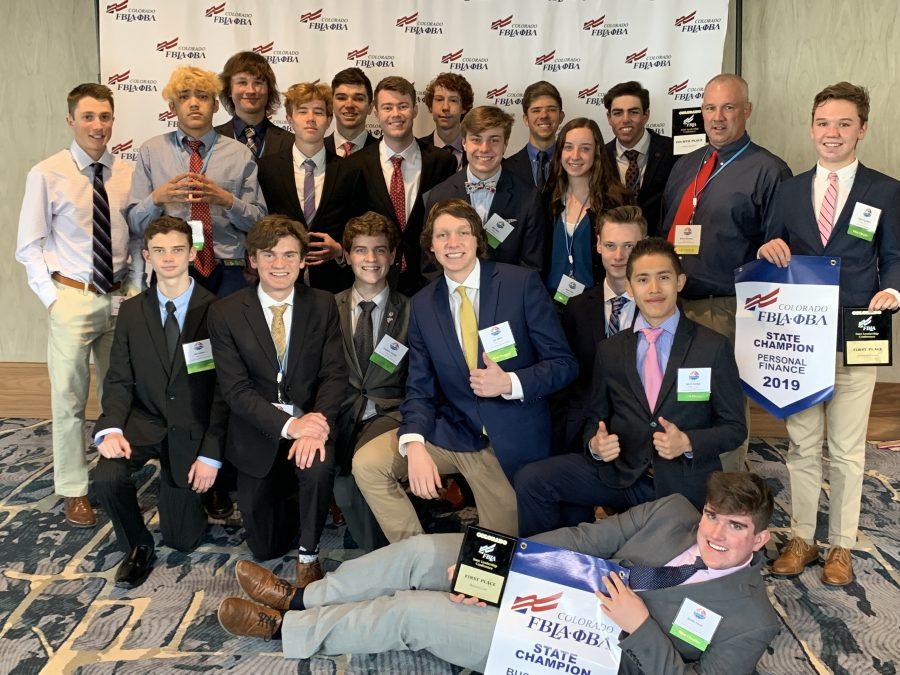 The Future Business Leaders of America team, led by President and Founder, Jake Stuart, headed into the state competition with little expectations. The club, freshly started this year, has already exceeded expectations by obtaining over 30 members, including sending 22 of those members to the state conference at the Gaylord resort.
The club allows students to explore various aspects of business through activities, community service, outside speakers, and competitions. The club was recognized at the state conference officially as a new chapter, and three of the members advanced to the National Leadership Conference in San Antonio. Sam Engelbert '20, and Brody Elliott '19 placed first in their respective events, while Michael Jones '20 placed fourth. The team competed in a variety of events to further business education, such as Accounting, Cyber Security, Job Interview, Journalism, Parliamentary Procedure, and Personal Finance.
All of this was made possible by the clubs advisor, Mr.Brent Bieshaar and Stuart. The odds were stacked against the Raiders, who entered the competition with only one business class under their belts along with a lack of experience competing. Raiders Celebrate their first state competition in style.
We asked several members of the club for their experiences at the state conference and what it was like being a part of the inaugural team.
Brody Elliott, champion of Business Law, explained that, "Competing was a unique experience and winning was of course unexpected. This was the club's first year as well as mine and the fact that we did so well, essentially a 90% qualification at districts, and the strong showing at state was outstanding! We had little knowledge of the procedures or what we needed to do, somehow we pulled it together! It was somewhat intimidating taking the test, especially at state."
Elliot says, "many of my fellow competitors had more experience, not to mention, the test covered very detailed topics. Being able to stand on the stage and take the first place banner and plaque was a grand honor. To know that my hard work payed off and to represent RJ in that manner was a great feeling! I look forward to hearing about how the FBLA club grows next year. I know for a fact that the RJ FBLA will have an even stronger performance next year. I certainly feel blessed to have had so many successes in my final year at RJ."
Sam Engelbert, state champion in Personal Finance emphasized the bond and chemistry within the team: "I really enjoy how close and supportive everyone in RJ FBLA is. State was one of the best experiences of my life and it was a pleasure to learn more about the business world as a whole. FBLA has provided me with tactics that will be highly useful for college and beyond."
Brent Bieshaar, Varsity Wrestling Coach, Personal Finance teacher, and Club Moderator stressed that, " FBLA is one of the biggest high school clubs across the nation. It was the passion of Jake Stuart – his tenacity and follow through – that convinced the State FBLA Board to allow RJ to have a club without all of the required business curriculum. We were one of only 15 schools to have more than one state champion in the 65 events for competition."
"This is just the beginning for FBLA at Regis. I believe that this will become one of the biggest clubs on our campus, and I look forward to seeing RJ students using this club as a spring-board to become the business leaders of tomorrow,"Bieshaar continued.
The club looks to build on the momentum from the state competition and make some noise at Nationals.