Hockey: A Comeback for the Ages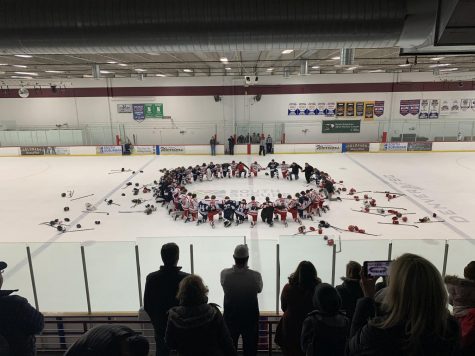 Story and Picture by Jake Stuart '20
It was a matchup set for the ages. The rivalry between these programs goes back to what seems like a lifetime.
The Eagles having not beaten the Raiders in 5 years were hungry for a win. They got exactly the start they were looking for with a Jake McCall goal early in the second. Following it up for the eagles in the third period was Owen Walsh nabbing his first goal of the season in what couldn't have came at a better time.
The young Raiders squad looked destined for their fourth loss of the season. Yet, they kept fighting. With a five minute major penalty plus an ejection and a minor penalty shortly thereafter, it was the Raiders turn to strike. Robbie Dembeck scored his fourth goal of the season to get the squad back within one. From there the Raiders didn't look back. Hero Schmidt was ultimately the hero in this one, providing his third goal with two minutes left to send the game into overtime.
The game ended in a 2-2 tie but the Raiders showed how relentless they can be, despite the loss of 14 seniors. They're back in action tomorrow at 8:40 tomorrow at the Sports Stable against Monarch.
LIVE GAME CALL HERE:
https://www.nfhsnetwork.com/events/regis-jesuit-high-school-aurora-co/gam74a2582eb9