Team Grades for Week 1 of Free Agency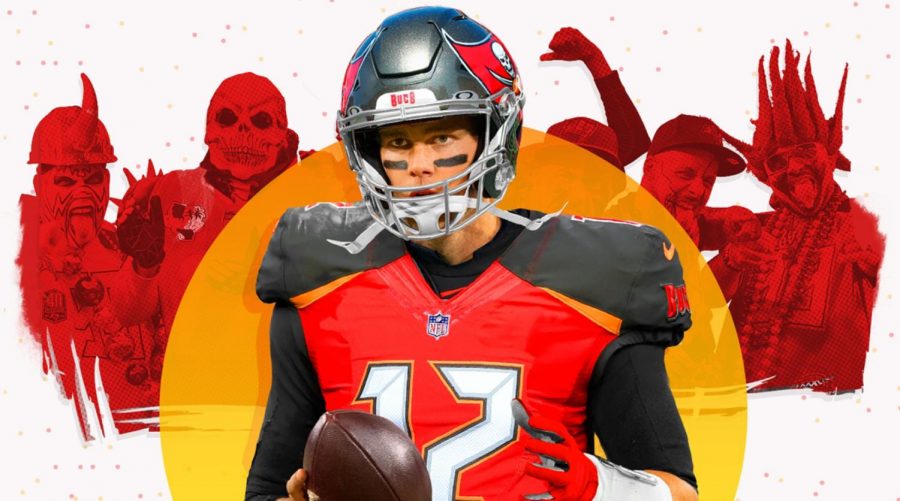 Hudson Ridley '22
March 24, 2020
NFL free agency is finally upon us. In a world with no sports, it couldn't come at a better time. Week one took the sports world by storm and there's no better way than to see how each team did than free agency grades.
Arizona Cardinals: A+
The Cardinals were able to pull off one of the biggest heists in NFL free agency history. They secured Pro-Bowl wide receiver DeAndre Hopkins for running David Johnson, a 2020 second round pick, and a 2021 fourth round pick. This works out perfectly for the Cardinals. Johnson had started to show signs of age and was slowly falling down the depth chart after the Cardinals acquisition of Kenyan Drake.
Atlanta Falcons: A-
The Falcons did pretty well for themselves during week one. The marquee signing for them was former offensive rookie of the year and Pro-Bowl running back Todd Gurley. The Falcons had recently released long time starting running back Devonta Freeman so this more than fills the hole. With that move and the signing of wide receiver Laquon Treadwell all eleven of the Falcon's projected starters will be former first round draft picks.
Baltimore Ravens: A
The Ravens did a great job at bolstering their defense at the cheapest possible price. A 2020 fifth round pick was shipped off to the Jacksonville Jaguars for Pro-Bowl MVP and Denver native Calais Campbell. The defensive end had just come off of a tremendous season finished off by winning the Walter Payton man of the year award. This allows the Ravens to possibly make a deeper playoff run with more talent on both sides of the ball.
Buffalo Bills: A-
The Bills played their cards right this year and have put themselves squarely in the driver seat of the AFC East. The biggest hole in the team was at the wide receiver position and they knew that. While John Brown was already a solid wide receiver number one the Bills went the extra mile by trading for star receiver Stefon Diggs. Josh Allen on his own is dangerous but giving him a superstar to throw to will make him deadly.
Carolina Panthers: B
The Panthers mixed the good with the bad this offseason to come out average after week one. They signed one of the best quarterbacks on the market in Teddy Bridgewater and set themselves up for a bright future, but it's how they handled their past that lowered their grade. The Panthers released a statement on Monday March 16th saying that they were giving Cam Newton permission to request a trade. Cam responded by saying that he didn't ask for a trade and said that the Panthers organization was trying to twist his words.
Cincinnati Bengals: B+
The last place Bengals have been fairly quiet this offseason but have made some nice decisions. Early on they franchised tagged A.J. Green which will keep him in Cincy for at least another year. They also signed coveted free agent D.J. Reader and solid veteran corner Trae Waynes. The Bengals focus seems to be on the upcoming draft and trying to climb out of last year's hole.
Chicago Bears: B
The Bears had an ok first week of free agency. Some positives were the signing of edge rusher Rober Quinn and trading for veteran quarterback Nick Foles. Foles will come in and immediately compete for the starting job with Mitchel Trubisky. Unfortunately for the Bears they had to cut linebacker and former first round draft pick Leonard Floyd to free up enough cap space to secure Foles. The failure to re-sign up and coming linebacker Nick Kwiatkoski also put a dent in the team's defense.
Cleveland Browns: B+
The Browns did a fairly good job during week one of adding solid talent on both sides of the ball. On the offensive end they were able to sign the number one tight end on the market, Austin Hooper, and backed up Baker Mayfield with Case Keenum. On the Defensive side of the ball they added safety Karl Joseph and defensive end B.J. Goodson. More moves appear to be on the horizon for this squad later in the offseason.
Dallas Cowboys: B
The Cowboys had a lot of buzz surrounding the team entering week one of free agency. Many thought that they were a dark horse to land Tom Brady and other big name free agents. That splash never came in the way of a big name arriving to America's team, instead it came from a massive re-signing. Amari Cooper signed a five year $100 million dollar deal to return. The Cowboys also went ahead and franchised starting quarterback Dak Prescot to keep the offense in good shape. The Cowboys did not end up securing star corner Byron Jones but they did go ahead and add veteran defensive tackle Gerald McCoy and safety Haha Clinton-Dix. They also seem to be pursuing Dontari Poe to sure up that D-line. The best may be yet to come for Cowboys in this year's free agency.
Denver Broncos: A
The Broncos have not only plugged their holes already this offseason but they went above and beyond. Offensive line issues plagued this squad last season. That's why it was so important for them to go all out to improve it. Their front office was able to luer center Graham Glasgow away from to motor city and off to the mile high. They also supported the tight end position by adding Nick Vannett and traded for veteran defensive tackle Jurrell Casey. The marquee signing this first week for the Broncos was star running back Melvin Gordon. This combined with Philp Lindsay Could be the deadliest one two punch at the running back position in the league.
Detroit Lions: B+
The Lions have had a solid but quiet free agency so far. No moves have been made on the offensive end yet but the defense has been changed. To try and ease the pain of Darius Slay leaving, the Falcons decided to sign corner/safety Desmond Trufant. Linebacker Jamie Collins will also be signing on as a defensive cornerstone for this team. Collins has worked under head coach Matt Patricia in New England so it seems like this pair will work well. The Lions seem to be thinking about making big moves in this year's draft so stayed tuned.
Green Bay Packers: C+
The Packers have already lost a lot of talent but they haven't done much about it. Their one free agent signing was offensive tackle Rick Wagner. Their major losses consisted of tight end Jimmy Graham, linebacker Blake Martinez, offensive tackle Bryan Bulaga, linebacker B.J. Goodson, and fullback Danny Vitale. With most of the good players off the table in free agency the Packers have a lot of catching up to do or this grade will probably hold. 
Houston Texans: D-
Where do I start with the Texans, this absolutely miserable young franchise was finally starting to show life and promise after 17 years. Then out of nowhere coach and somehow GM Bill O'Brien blindsides the entire franchise by trading arguably their greatest player in franchise history (DeAndre Hopkins) for an old washed up running back (David Johnson) and some draft picks. The Texans were not able to get any of their big target free agents either. Their only notable signing was wide receiver Randall Cobb in an attempt to maybe try to fix the Hopkins sized hole in their receiving corps. They also let star defensive tackle D.J. Reader walk so yet another position needing a rebuild.
Indianapolis Colts: A-
The Colts haven't made much news all free agency. They've had two notable moves but it was sizable enough to increase their grade. After Andrew Luck retired prior to the 2019-2020 season Jacoby Brissett has had to step up. Brissett has done an ok job but the Colts were obviously looking for more so they turned to veteran quarterback and most polite trash talker in the league Phillip Rivers. The 38-year old had spent 16 seasons with the Chargers so maybe a change of scenery was best for both the Chargers and Rivers. The Colts also traded the 13th overall draft pick in 2020 for star defensive tackle DeForest Buckner. If the Colts play their cards right they're in prime position for a playoff run.
Jacksonville Jaguars: D+
The Jaguars have always been a struggling team and just when you think they'll turn it around they won't. After trading A.J. Bouye for a fourth round pick it seemed like their front office would make competent moves this offseason. Unfortunately for the Jags fans that was not the case. After shipping off Calais Campbell for a fifth round pick they signed Joe Schobert to a massive long term deal. Schobert has always been a solid linebacker but never a cornerstone. The Jags obviously didn't care and signed him to a five-year $53.75 Million deal. They also traded quarterback Nick Foles for a fourth round draft pick leaving Gardner Minshew as the lone quarterback. Maybe Gardner can work some Minshew magic and become a solid consistent starter but it's unlikely.
Kansas City Chiefs: C+
The reigning champion Chiefs don't need many improvements but it's important they don't lose too many people. They were able to franchise tag defensive tackle Chris Jones and sure up their offensive line by adding offensive tackle Mike Remmers but they haven't done much else. On the flip side they lost Kendall Fuller who was a solid corner in a shaky secondary and defensive end Emmanuel Ogbah one of the most under rated pass rushers in the league. Look for the Chiefs to make more moves soon.
Las Vegas Raiders: B+
The Raiders did a good job at securing small pieces to slightly improve the roster. They started with the linebacker corps by picking up Cory Littlleton and Nick Kwiatkoski. Then they signed Jeff Heath at safety and Eli Apple at corner. The Raiders finished off this wave of defensive signings with Maliek Collins at defensive tackle. On offense they signed Marcus Mariota and Jason Witten. Overall the Raiders did a good job at improving for next season.
Los Angeles Chargers: A
The Chargers have only made smart moves this free agency earning them an A. Early on they invested in Austin Eckler and let Melvin Gordon walk. They franchised tagged up and coming tight end Hunter Henry. They traded for Pro-Bowl right guard Trai Turner. They signed right tackle Bryan Bulaga, and got corner Chris Harris from the Broncos. They also possess the number six overall pick in the 2020 draft which they will most likely use to pick a quarterback to fill in for Philip Rivers. The Chargers can't seem to make a wrong move this free agency and now they have the tools to make a playoff run.
Los Angeles Rams: B
The Rams have had an interesting first week of free agency. They released some premium talent but also picked some up in the process, and to top it all off they released a new logo which fans and players hate alike. The logo has more of a place with their cross town rival the Chargers than it does with the Rams. Their free agency was kicked off by releasing star running back Todd Gurley and star linebacker Clay Matthews. To replace Matthews the Rams signed Leonard Floyd and freed up cap space for more big moves to come.
Miami Dolphins: A+
The Dolphins made the most key acquisitions in week one. The long list includes names like Byron Jones (corner), Ereck Flowers (offensive guard), Shaq Lawson (defensive end), Kyle Van Noy (linebacker), Emmanuel Ogbah (defensive end), Kamu Grugier-Hill (linebacker), and Jordan Howard (running back). They also hold the number five pick in the draft where they will most likely select Tua Tagovailoa and use the 16th overall pick on running back J.K. Dobbins. With Brady gone from the AFC east, look for the power struggle to be between the Dolphins and the Bills.
Minnesota Vikings: C
The Vikings have done nothing but lose talent this offseason. They've lost six players in their secondary including stars Trae Waynes, Xaiver Rhodes, and Anthony Harris. They cut defensive lineman Linval Joseph and let Stephen Weatherly walk. To make matters worse superstar defensive end Everson Griffen announced he would not be returning next season, and that's just the defensive side. Hot shot wide receiver Stephon Diggs forced his way into a trade to Buffalo, and receiver Laquon Treadwell also left for Atlanta leaving a bare bones receiving corps in his wake. The Vikings need to right the ship fast or there's no doubt that they will sink into obscurity. 
New England Patriots: C
The Patriots seem to be the saddest team this free agency. The greatest player in the history of the game departed from their franchise after 20 years and six super bowls leaving the Patriots devastated and with nothing left. They have slowly lost most of their defensive pieces to the Lions and the Dolphins for years and their offensive line has done the same. Brady was the only thing keeping this team together and as it stands right now nothing on the depth chart will come close to replacing him. As of week one the battle for starting Quarterback will be between Brian Hoyer and Jarrett Stidham. Neither of them are starting caliber so they patriots might look to trade for Andy Dalton or Cam Newton in the coming weeks.
New Orleans Saints: A-
The Saints have been fairly quiet as new talent floods into their division the NFC south. They'll now have to deal with Teddy Bridgewater on the Panthers, Todd Gurley on the Falcons, and Tom Brady on the Bucs. The Saints quietly signed Malcom Jenkins to more than replace Eli Apple, and added Emmanuel Sanders to give Drew Brees more options to work with. Best of all they also extended Brees keeping him out of retirement and on the field for at least one more year.
New York Giants: B+
The Giants didn't make much of a splash in free agency but they did grab some top shelf talent to build for the future. They signed Blake Martinez, a ballhawk middle linebacker and field general, Dion Lewis an explosive running back to back up Saquon Barkley, and Cam Flemming, a powerful offensive lineman for Barkley to run behind. After Eli Manning retired the Giants have gone all in on the Daniel Jones, Saquon Barkley, Darius Slayton trio. With that young squad the sky's the limit so look for them to build around that combo in the coming weeks.
New York Jets: B 
The Jets mainly focused on re-signing talent already on the roster and improving their secondary. The Jets struggled last year and were riddled with injuries that never allowed them to take off (excuse the pun). Week one wasn't much as we only saw four new players join the roster. Those players were Connor McGovern (Center), Pierre Desir (corner), Marqui Christian (safety), and Josh Andrews (Offensive guard). All of these new players are solid signings that won't break the bank to add on to the seven players they've already re-signed. The Jets have also placed their hat in the ring to get Jadeveon Clowney who is the number one free agent left.
Philadelphia Eagles: A-
The Eagles have been one of the most active teams in all of free agency so far. It seems like everytime big trade deal gets done the Eagles were close to making that same deal work. They haven't gotten a large quantity of new players but the quality speaks for itself. After long time captain and leader of Philly's secondary Malcom Jenkins announced that he would not return to play for the dirty birds next season, the Eagles shopped the market for replacements. They ended up signing Darius Slay who was the number one corner on the market at the time. Their biggest issues remain in re-signing veteran offensive tackle Jason Peters, and patching up the wide receiver position after the departure of Nelson Agholor.
Pittsburgh Steelers: B+
The Steelers were one team in a long list of teams that were quiet but good in week one. Most of their players were already under contract. The only two substantial players to leave were tight end Nick Vannett and fullback Roosevelt Nix. Vannet was replaced by former Pro-bowler and star tight end Eric Ebron and Nix was eplaced by Derek Watt. Derek is the brother of superstars JJ Watt and TJ Watt, with Derek and TJ now teaming up in Pittsburgh they could use it as a bargaining chip to try and luer over JJ from Houston.
San Francisco 49ers: A-
The 49ers have done a good job of building on an already solid squad. Even though they boast the best defense in the NFL it wasn't enough to win them a championship, so in week one they decided to turn defense into potentially offense. The Niners shipped off DeForest Buckner to Indy for the 13th overall pick in the 2020 draft. With that pick they are expected to draft Jerry Juedy, a standout wide receiver from Alabama who is drawing comparisons to Julio Jones. That move also clears out the log jam on the defensive line. After re-signing a couple of players they have placed running back Matt Breida on the chopping block hoping to get more star talent at other positions.
Seattle Seahawks: B
The Seahawks used week one of free agency to build their offensive line. Seattle's line play has never been superb or consistent, and with most of their o-line leaving in free agency they decided to keep the revolving door moving by signing four linemen. The only other pick up the Seahawks made was signing Bruce Irvin. Irvin was a critical part of Seattle's victory in superbowl 48 and the city will likely welcome him back with open arms. Since leaving in 2015 Irvin has been with the Raiders, Panthers, and Falcons. During that span his production has severely declined but he can still be a disruptive force in the pass rush game.
Tampa Bay Buccaneers: A 
The Buccaneers pulled off the biggest move of free agency by far by signing the greatest player to ever play the game of football, Tom Brady. After 20 years Brady finally decided to pack his bags and leave, and it's fitting that his destination will be Tampa because that is where many go to retire. Brady will have multiple Pro-bowl caliber weapons and a solid offensive line. There are only two problems. Number one is that Tampa Bay doesn't have a good running back. One of Tom's favorite plays is a running back screen and without talent at that position it may be tough. Brady also is a quarterback who loves to throw checkdowns to open receivers and have them carry the load, that doesn't mesh with head coach and play caller Bruce Arians who runs an air raid style offense. Arians likes to go deep and Brady does not but I'm sure if there's someone who could figure this out it would be Tom Brady.
Tennessee Titans: B-
The Titans have also had a quiet offseason which would warrant most teams a B to a B+ rankings, but it's the way they handled their re-signings that lowered their grade. The two key pieces that the Titans needed to re-sign were quarterback Ryan Tannehill and running back Derrick Henry. Most of the offensive production of the Titans comes from Derrick Henry who dominated all season long and especially in the playoffs meaning he's entitled to a big long-term deal. On the other hand, Tannehill wasn't asked to do much but was solid and deserved a decent contract. Instead the Titans placed the franchise tag on Henry electing to keep him one more year and risking him leaving in 2021. They used the leftover money to sign Tannehill to a four year $118 Million contract.
Washington Redskins: C+
The Redskins have always seemed to struggle once free agency rolls around. With owner Dan Snyder calling the shots and building bad rosters that can't compete followed by some massive trade nobody asked for. They've replaced some offensive line starters with other team's backups and let Case Keenum walk in favor of bringing in Kyle Allen to compete with Dwayne Haskins. They did have some nice defensive signings picking up Kendall Fuller (corner), Thomas Davis (linebacker), and Kevin Pierre-Louis (linebacker). However, Ereck Flowers' departure and the eventual trade of Trent Williams will be too much to fill and whoever is starting under center for the skins will be guaranteed to be battered all year long.
Week one definitely brought the excitement and kept a constant stream of headlines in the news. Stay tuned on rjmedianow.com for the week 2 free agency update.
Listen to the Raider Sports Radio podcast on the RJ media youtube page.