Technology Availability Drives Student Learning
Regis Jesuit freshman, sophomore, junior, and senior classes all have one thing in common- student access to IPads in class. Other methods of screen time such as television, phone apps, video games, and more are more attainable in a home environment. In turn, studies show this negatively affects focus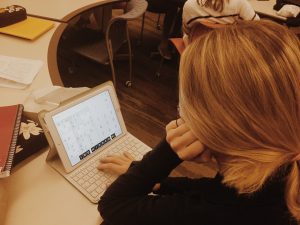 at school yet improves student access to the media.
A study done at Pew Research Center shows that 75 percent of 2,462 teachers surveyed believe the internet had a generally considerable effect on student research sufficiency.
"I would say technology at Regis Jesuit has many benefits. Being able to access the internet for educational purposes is very effective because no other generation has had that opportunity in a school setting. We have easy access to information that our parents and grandparents did not, said Junior Shannon Cunningham.
Cunningham reflects on the benefits that research provides.
However, 90 percent believed technology was producing an inattentive society of teenagers- those who desire to take the easier route to finding answers with a simple quick click of a button.
"For the most part, technology in the classroom is a negative for me. Freshman year students played games throughout class and I felt super frustrated because it takes away from the quality of education," sophomore Eleanor Queenan says. "Although some feel what they do in class does not affect others, technology is distracting in general. My middle school was super traditional. We could not carry our phones. While high school comes with greater responsibility and freedom, some students abuse it." 
Queenan backs up the previous statistic regarding the ineffectiveness and distraction that comes with learning through an IPad.
Those working at Pew Research also acknowledged that teachers need to better accommodate to how their students learn.
A poll was taken in senior, Lauren Markel's pyschology class last week on teachers assisting to individual student learning styles. The results of the poll consisted of students' lack of Kinestheitc learning.
"So much of our education is auditory and visual. Lectures and PowerPoints attribute to this learning style. We do not have a sufficient sense of using our bodies in skilled ways in the classroom," Markel said  
However, Markel believes Canvas is an interactive way for Regis Jesuit students to organize their curriculum in one app and turn in assignments online. 
Although some students immediately respond on the downsides of technology when asked, many believe when it is used correctly, it is a great resource in the classroom.
Another study conducted by Vicky Rideout, a researcher among Common Sense Media shows 60 percent of the 685 teachers surveyed believed students' ability to converse and write was poorly affected by technology usage. 50 percent of teachers saw this lack of engagement carry outside the classroom into students' capability to complete homework.
"Personally I don't feel like technology has poorly affected my ability to converse with others. There are certainly times where I am less social but it is not due to technology. Sometimes I think that technology makes it hard to complete homework because my attention is focused on my ability to have full access to the internet and social media," senior Anni Schultze said.
Schultze's struggle to engage in homework results in her lack of attention due to open technology usage.
Technology may be a more dynamic way to interest students in studies, but digital usage is slowly manifesting into an outbreak of brain drawbacks, behavioral troubles in younger, more developing brains.