Sam Stern: Journalist Portfolio
Play-By-Play and Commentary 2018-2019 Sports Broadcast Reel
Play-by-play is a way of giving the viewer the best sports experience. When I entered Regis Jesuit High School as a freshman, I immediately tried to find a club or class that would spark my interest. When I heard last year's CSMA play-by-play award winner, Nick Sangalis, his excitement and skill for broadcasting really set a fire within me. I arrived at school the next day to Mr. Dawkins' room and informed him I was ready to work my way up the ranks in the journalism program. When I broadcast sports of any kind, I pride myself in truly making the viewing experience the best it can be. I base my commentary off of my inspiration, Kevin Harlan. His play-by-play work on TNT and CBS is riveting every time I tune in. I want people not only to tune in to watch our phenomenal sports programs at Regis Jesuit but to also experience the game through my commentary. When I first started announcing color as a freshman, my nerves interfered with my overall abilities. Now as a senior, I feel extremely confident in every broadcast I take part in.
Not only have I seen my commentating skills blossom, but my leadership abilities have skyrocketed. Every Monday in the journalism room, I lead meetings that get people excited and ready to participate in weekly sporting events. As one of the heads of RJ Media, I have taken the initiative to make sure that I mentor and improve the abilities of my peers. I helped mentor underclassman by leading live broadcasts in hope that they will be able to take over the torch themselves. I hope that this reel showcases my excitement, knowledge, and overall confidence. My hope is that my passion for commentary makes you as pumped about high school sports as I am on a daily basis.
On-Camera Reel 2018-2019
Pinpointing my play-by-play work throughout my high school career, I really wanted to tap into another version of commentary. The "on-camera" side of journalism can be even more powerful I found. The viewer could actually connect with the commentator even more when seeing them in person. I find that when I am able to speak with others on camera, it is an added way to connect. When I am on camera talking about sports, I try to give the viewer the impression that I am having a live conversation with them.
While announcing high school sports, I am known for comparing professional athletes to our own high school athletes. I believe that when you can connect a high school athlete to a well-known professional, the viewer is already locked into the show right off the bat. The pre-packaged content that our team creates is thrown into our live broadcast, so it really makes our broadcasts ESPN quality. My goal every time I perform anything media-related is to make it as professional and perfect as possible.
2019-2020 Football Broadcasts
Standing up for Student Media access and rights to broadcast: Lead Play-by-play Regis Jesuit Girls Basketball vs East
During my tenure with the Raider Sports Network, I have obviously had many trials and tribulations. With our NFHS and live stream system, we have had a few technical difficulties and problems that have kept our crews from being able to broadcast properly at times. During the second round game vs East High School, we were having quite a few technical problems with our live stream system. Finally, we were able to repair our setup to stream about an hour before game time. On another occasion, I received a call from our media adviser, Mr. Adam Dawkins, informing us that we may not be authorized to broadcast our girls basketball team, due to the NFHS and CHSAA contract that gives exclusive rights to professional media to cover some of the biggest high school sporting events. This has been an ongoing issue between student media and the Colorado High School activities Association and NFHS. This time they wanted to cover our team because of USA Olympic team member and Gatorade Player Of The Year Fran Belibi, who had shocked the nation earlier in the year by becoming the first female, high school level basketball player to catch an alley-oop in game.
I was deeply concerned over this dilemma, and wanted to figure out where the disconnect occurred. I asked Mr. Dawkins for Bert Borgmann's contact info so that I could ask him about this situation. Mr. Borgmann is the assistant commissioner and head of media for CHSAA events. We had a great conversation on the phone, and ended up coming to an agreement so that our Raider Sports Network team could indeed broadcast our elite girls basketball team. I am thankful I took the initiative to keep our broadcast going, because ultimately we got to cover Francesca Belibi's only dunk of the playoffs.
Meeting up with San Antonio Spurs Radio Play-By-Play Bill Schoening & Altitude Sports Network's Todd Romero and Bill Hanzlik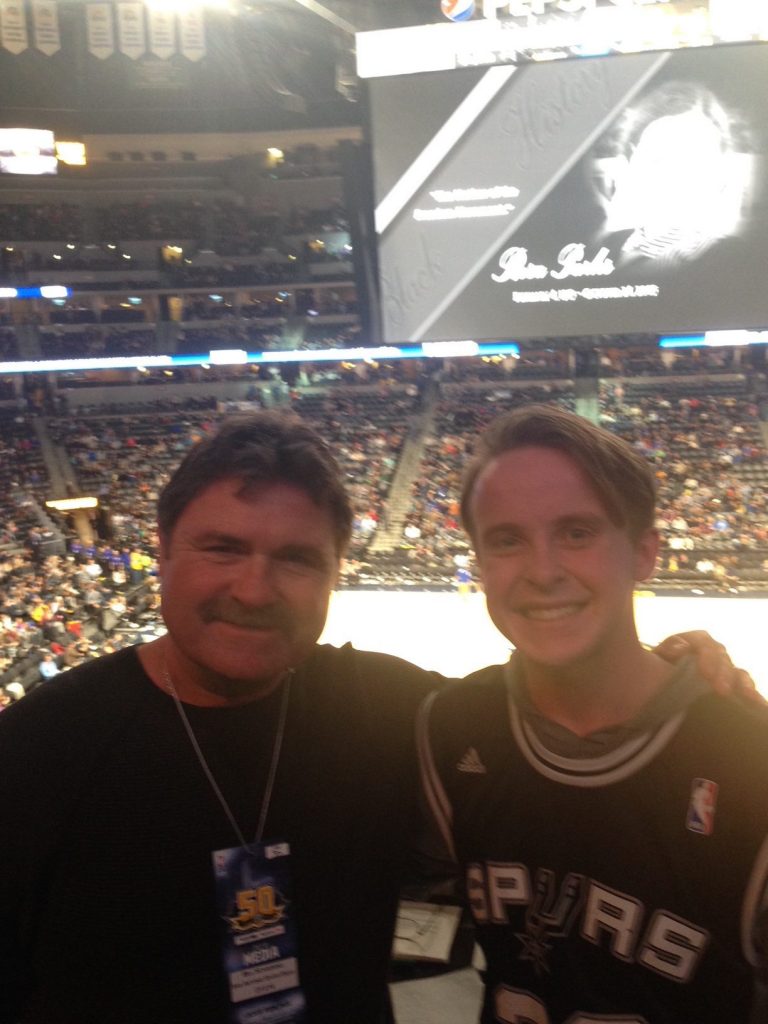 As I mentioned previously, Kevin Harlan has always been a major inspiration to me with his excitement on air. His work on TNT and CBS is well regarded by sports fans all over the country. However, when it comes to radio commentary, San Antonio Spurs play-by-play Bill Schoening is top notch. Radio commentary can be challenging due to the fact you are the one translating the game to the viewers who cannot watch it live. The viewers are relying on you to provide perfect play-by-play commentary for a full game. Mr. Schoening voices it to perfection with some added flair as well. The day after hearing his broadcast in an away game vs the Sacramento Kings, I knew I needed to try to contact him to try to get some advice. Not in my wildest dreams did I think I would get a response to my email. He responded 30 minutes later. Ever since that email, he and I have become good friends and contact each other regularly. I use him as a resource to edit and check my broadcast when writing work outside of school. When the Spurs visited Denver in November, I decided to contact him to see if I could meet him in person and see his crew in action in Denver. He was very informative about his setup and notes of all kind. This situation really aligns with the saying, "it's all about who you know." I feel like this special relationship will get me even closer to my dream of becoming a professional sports announcer.
On April 7th, I had the privilege and great honor of attending a live studio broadcast at Altitude Sports Network studios. We were able to meet and greet with Bill Hanzlik and Todd Romero before they went live for the their away broadcast between the Denver Nuggets and the Portland Trail Blazers. They were very informative in teaching us how they run their professional studio broadcasts during home and away games. I was able to sit with a headset and listen into the producers feedback as they provided direction to the guys. I am hoping to take in all the information I learned that day to improve the quality of our Regis Jesuit broadcasts as a whole. This experience will definitely help out with the pre-packaged content that we include in our live broadcasts. Now the viewing experience is only going to be that much more exciting due to what I learned. This was an unforgettable experience that I will forever be thankful for.
Favorite Live Broadcasts from 2018-2019: See more on our RJ Media YouTube Page
During this game against the Grandview Wolves, the defending champions, Regis Jesuit brought in a huge crowed for the highly anticipated championship rematch. Our senior leader, and McDonalds All-American, Francesca Belibi, threw down a dunk that quickly sent an immediate message to every team in the state of Colorado. She dunked on a stunned Grandview team that was looked at as a lock for a title repeat. Our gym was packed with excited fans from all over Colorado to watch this highly anticipated matchup. The national high school network, ESPN, and all the local television stations were there to catch the action. Her unbelievable dunk went viral (this occurs at 10:03), and she became not only the face of our girls basketball program, but the face of Colorado girls basketball. Our Raider Sports Network coverage of her dunk, and the game itself, has reached close to forty thousand views on YouTube and Twitter combined. Also, at 58:32, there is an on court ruckus that occurs towards the end of the game. This incident was ultimately handled by the Aurora Police Department and they subpoenaed our coverage to investigate the situation. I am very proud of the way our crew handled the situation, considering how crazy the gym was at that time.
This game was our first playoff game after our first round bye. This was my first broadcast I performed solo in my career on RSN. I was very proud of the way it sounded, and the flow of the broadcast was exceptional. Our head producer Patrick Carlson does an amazing job with the behind the scenes and the graphics.
This was my favorite boys basketball broadcast of the year. Our senior center Daniel Carr had a sensational game as usual, and put up monster numbers. Broadcasting boys basketball is a favorite of mine, so you will be able to hear my passion for the sport throughout the broadcast. This broadcast was performed with my exceptional announcing partner and color commentator Jake Stuart.
This was a broadcast I announced right after playing in one of my own soccer games at RJ. I competed on the JV team last year so I immediately went from player mode to commentator mode in a blink of an eye. I love commentating soccer, not only is it very fast paced, but the talent level of Colorado soccer is impeccable. The pregame show was one of my favorite parts of the broadcast.
Elevate Magazine and RJ Media Now Written Pieces
Not only have I worked in the broadcasting realm, but writing has been a large part of my Journalism career as well. Sports profile writing is a tense that I have taken interest in. Not only am I looking at the athlete's fantastic athletic ability, but more the personal side of what makes sports so important to them. Being able to hear an in depth analysis of what is going through an athlete's mind on and off the field/court is riveting. Here are some examples of some sports stories that I have written in Elevate Magazine and our RJ Media Now website.
During the month of September, our school community was given devastating news that one of our beloved teachers had passed away. Mrs. May was a powerful human being who had a deep impact on many around the community. I felt it was only right give her a tribute that she would appreciate. Here are a couple of pieces that I wrote to honor her life full of positivity and life giving.
Creation of Raider Sports Network Social Media Platforms
During my Sophomore year, I made it a priority to look into the social media data behind the scenes to see what our viewers were interested in. Over the years, RJ Media has always had one social media platform that showcases all the exciting opportunities and events that our school has to offer. Coming into the year, I was noticing that so many people were so interested in sports news and highlights, but did not want to hear about every school event that was happening at that time. That's when I knew that we needed a social media platform exclusively for Raider Sports. Over the last two years, it has grown to be a popular source of news and highlights for people all over the wider community. Three years in, we are gaining an abundance of traction, and our award winning social media pages are being ran by our phenomenal Raider Sports social media leader, Angela Serwaa-Marfo. Here is the link to our award winning Twitter page.