Diving Deeper into Taper: A Look at How Swimmers Prepare for State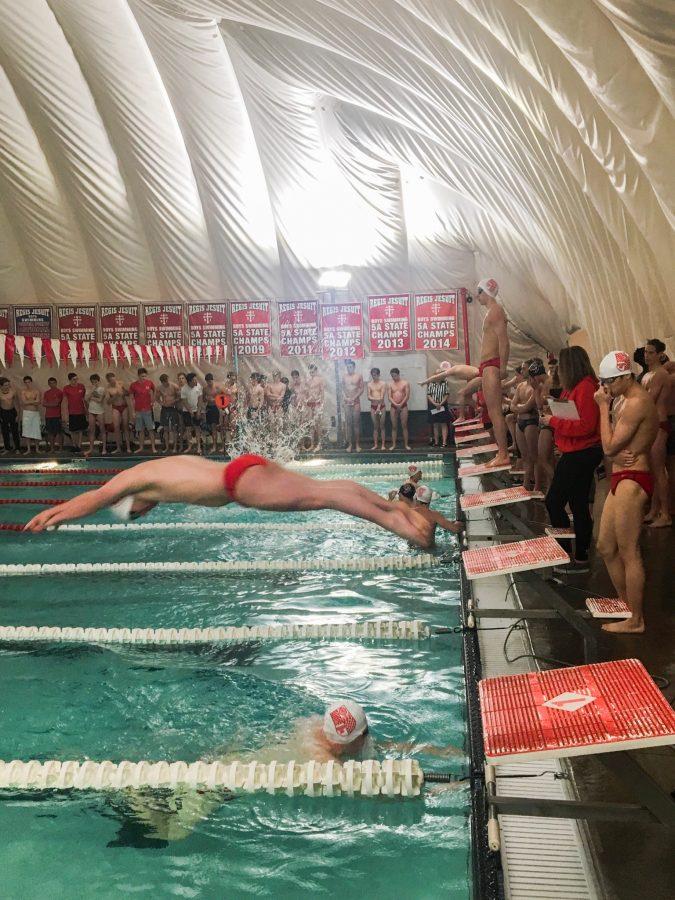 By Abby Gonzales '19
As the Boys Swim and Dive team begins to wrap up their season, Regis Jesuit will begin to notice some highly energetic, sleep induced and fully shaved athletes roaming the halls.
The word 'taper' sparks a certain type of universal feeling in all swimmers, however the rest of us may be wondering what it even means. Tapering for swimmers is a duration of time that serves as preparation before a big competition. Head Swim and Dive coach Nick Frasersmith, defines taper as,
"Taper is resting, lowering work load and fine tuning. Trusting in what you have done all season and believing in the program will help with a great taper and season ending Championship meet."
Ultimately tapering as a swimmer is to solidify the training done during the season. This ensures an easy execution of all of these things during a high pressure race.
Taper can mean a lot of different things to a swimmer however. For varsity swimmer Spencer Burks taper has a good and bad side,
"Taper is usually easy for me but only during the last two days of it. I start feeling bad in the water which affect my mindset," Burks says.
Taper can be painful because your muscles and body are slowing down from a very intensive season. Swimmers focus more on instilling speed rather than endurance, this means practices have less total yardage. More rest!
"We start the season with longer more grueling practices to get a base built up. As the season goes on we do more specific race focus, lower yards higher intensity," Frasersmith explains.
Most coaches believe taper is more mental than physical, and it is all about trusting in your own training and your own coach. Many people obviously have different mindsets, but it comes down to being committed to doing everything right from the first day of practice and carrying it through the taper process.
Colin Yakely illustrates this idea very well when he says,
"Honestly I just know its coming to the end of the season. I know that I need to get more sleep, eat healthier and get ready mentally. Its always pretty fun during taper because the practices are shorter and easier. I always get excited before taper."
He continues, "I think that taper is quite easy for me mentally. I never really doubt it, and I trust the process. I always know taper will work because I trust Nick."
Taper is one of the most unknown aspects of the sport. So during the last couple weeks of school, when you spot a swimmer looking more energetic and less tired than usual, you now know why.