Why Brownie Batter Core Is The Best Ben and Jerry's Flavor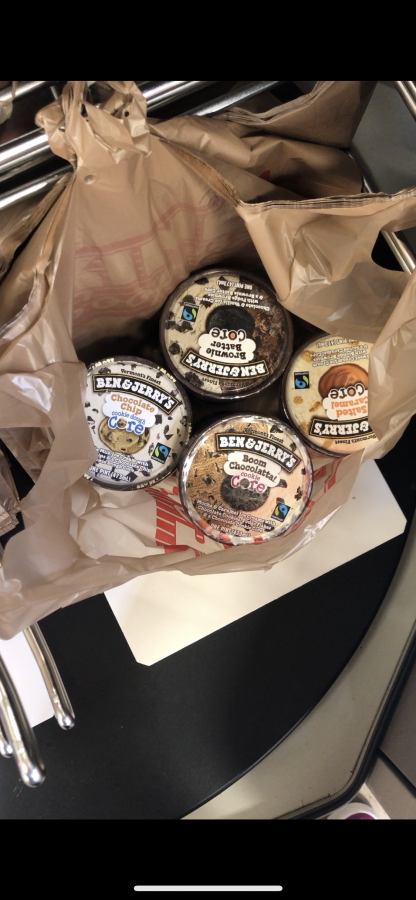 By: Audrey Harman '22

Easily recognizable by their iconic blue and brown tubs Ben and Jerry's ice cream is a household name. They have over 60 flavors to "satisfy every bowl out there."
So I set out to try every flavor they made, but after a budget cut and lack of variety at my local King Supers, I was only able to find four of their "core" flavors.
These special favors of ice cream include a "core" or as it turns out a squiggle of cookie dough, brownies, carmel, cheesecake, and many more flavors in the center of the ice cream tub.
Though all of them tasted good I rated them from best to worst. I based my ratings off of the taste and texture of the ice cream. It it was perfect it got a 10/10 and if it fell short of that, it would get anywhere from 1/10 to 9/10.
Standing in last place is Ben and Jerry's Chocolate Chip Cookie Dough Core Ice Cream.
Don't get me wrong this pint wasn't bad at all. It had an amazing "cookie milk" ice cream with fudge chips and a cookie dough core. It was all just too much together. The cookie dough masked the ice cream and left me feeling like I had just eaten a spoonful of raw cookie dough. The flavors mixed pretty well but the cookie dough core overpowered everything else in the pint made it taste too gritty.
Overall it gets a rating of 6/10.
In third place is Ben and Jerry's Boom Chocolatta Cookie Core Ice Cream.
This ice cream had a great Caramel and mocha ice creams. It also had chocolate cookies, fudge flakes, and a chocolate cookie core. The texture was ok, it was not fully mixed so some bites were more chunky than others. I loved the hints of mocha and how all of the flavors mixed. Though the after taste was really weird, which was a result of the mocha. The ice cream itself was delicious but if you don't like mocha then this is not the ice cream for you.
This ice cream gets a rating of 7/10.
In second place is Ben and Jerry's Salted Caramel Core ice cream.
As I am not a big fan of salted caramel this came as a shock to me. The ice cream had blonde brownies and sweet cream ice cream, with a caramel "core". The ice cream kept the brownies moist and the ice cream wasn't was sweet as the other ice creams were, so it balanced out the sweetness of the caramel perfectly. The core was at a perfect ratio of 1:6 caramel to ice cream. The one thing I didn't like was how small the brownies were. I wish they would have been nickel sized when they were actually dime sized. That would have made the ice cream's texture more exciting.
This ice cream gets a rating of 8/10.
Now onto the best ice cream ever, Ben and Jerry's Brownie Batter Core.
This ice cream was the ice cream of my dreams, it had chocolate and vanilla ice cream with brownies and a brownie batter core. It was smooth and creamy even with the brownies in it. The flavors mixed perfectly into a chocolatey dream. It tasted exactly like a brownie with ice cream on top.
This is ice cream gets a 10/10.
I highly recommend Ben and Jerry's Brownie Batter Core or Salted Caramel Core Ice Creams because they were different from any other ice cream I have had. Though all of the "core" flavors brought something new to the ice cream world, these two were my favorite because they tasted the best.