And the Crowd Goes Wild
Hang on for a minute...we're trying to find some more stories you might like.
By Lauren Elson and Ashley Richardson
The game starts off with an intensity that takes ahold of the crowd. Both teams put up a tough fight for no one scores in the first half. The crowd cheers and screams as Lauren Pendergast (LP) runs towards the goal and scores the first goal of the game.
Cherry Creek High School later on ties up the game with less than one minute left. The game soon goes into overtime and is concluded when LP scores the final goal winning the state championship.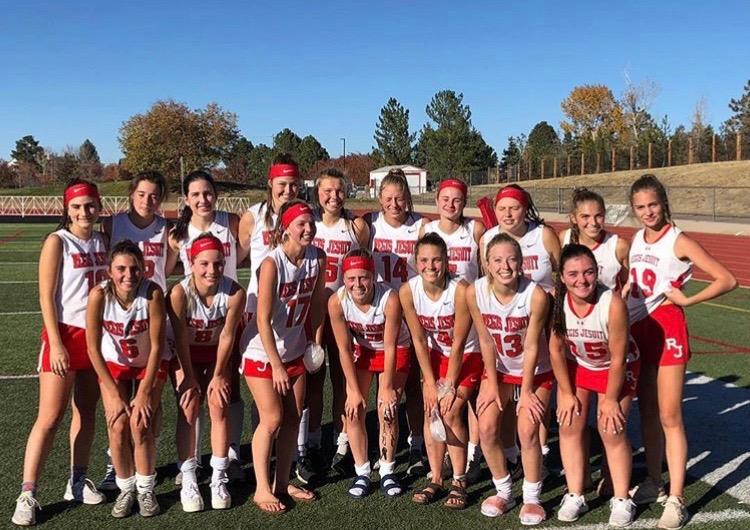 Going into the state championship Regis Jesuit was ranked 4th with a 12-2 record, after a win (1-0) over Kent Denver High School. They came a long way from their first game, showing tremendous growth.
"A moment that stuck out to me was the first game of the season when we played Kent. We had 17 short corners and made none of them. From that moment on we decided we really needed to improve our corners and once we did it's something that helped us win the championship." LP shares.
The field hockey team made RJ history, October 25, 2018, with the two winning goals scored against Cherry Creek High School. With time, drive, dedication, and passion, the girls Field Hockey team made it to state for the first time in RJ history.
"[we] were just focused more on winning as a team. If it wasn't for all the corners we got, the rock solid defense backing us up, and of course Shay in goal, neither of those goals would've happened." Junior forward, LP exclaims.
Winning state was an incredible feeling, according to LP as it is something the team worked hard for all year and to finally accomplish it left a major impact and was well deserved. Olivia Wiley described the moment they won as "a lot of excitement and [I] was just proud to be part of the team that we have worked so hard to build."
You don't have to be a part of the team to notice just how close they all are; which helps a lot with their cooperation and teamwork on the field. Many of the players saw being a part of Field Hockey as a way to make new friends and be apart of a team. After years of hard work this team soon became family. To senior forward, Abby Loveland, they are more than just a team.
"When all got in a huddle after the game," Loveland says about her most memorable moment.
Lauren Doyle says that every year the team "has grown a lot. Every year [the team] goes further and further in the championship and this year we won."
There is no doubt that the team is absolutely speechless and proud of their well deserved title!
Regis Jesuit Field Hockey is a great way to meet new people and form unforgettable bonds with your teammates. Megan Fronz highly recommends joining the field hockey team due to the hardworking and team oriented atmosphere.
"It is a great sport and the team becomes a family throughout the season." Exclaims Junior Megan Fronz.
Former player and captain, Regan Cadieux, currently playing on the George Washington Club Field Hockey Team, expresses that she could not be happier for the team, for former teams have desired to be in their position.
Regan explains that every seasons goal is to improve on the last season and work hard till you achieve that goal.
Field Hockey is a sport based on teamwork, as Regan Cadieux recalls. She mentions that, without your team, you would not succeed. She expresses that field hockey is about "having fun, just like any sport."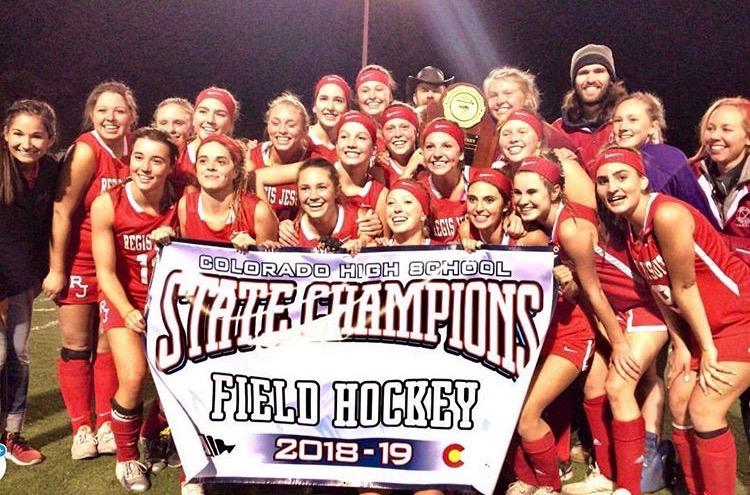 The Regis Jesuit Field Hockey team worked hard to win state and played their best season yet. The rest of the Regis Jesuit community is excited to see what they have in store in years to come.