Ms. Roberge '10 Lives Selflessly at Regis Jesuit
By: Danielle Dull '19
At Regis Jesuit the power of Men and Women with and for Others allows us to strive for so much more each day. This can be seen through the dedication of service by Molly Roberge.
Ms. Roberge graduated from Regis Jesuit High School in 2010. After high school she attented Gonzaga University, graduating with a Bachelor's degree in sociology and a minor in journalism. While at Gonzaga, Ms. Roberge discovered her love for mentoring through a program called "Eye to Eye," which is a mentoring program in which college students who have struggled with learning differences are given the opportunity to mentor middle school students with similar learning differences. The program is based out of New York, but reaches the entire nation. Ms. Roberge joined the program her freshman year and fell in love with it.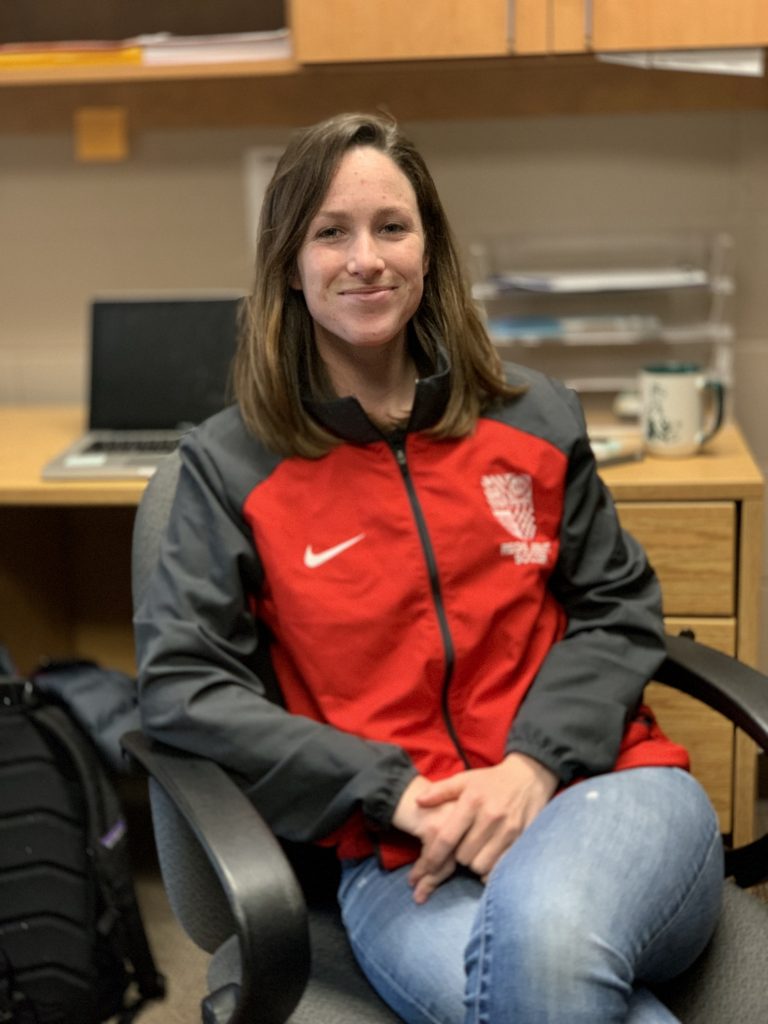 "I started out as a mentor my freshman year at Gonzaga and loved the experience so much I became coordinator my sophomore and became a speaker for them," Ms. Roberge says. "This experience showed me how much I enjoyed working with students who were similar to me and helping them realize their potential and how they best learn."
After graduating in 2014, Ms. Roberge went on to serve as an ASC teacher at St. Louis University High School in St. Louis, and wanted to dedicate her work to serving others. The Alumni Service Corps primarily promotes the Jesuit tradition of living selflessly; a quality Ms. Roberge grew while working as an ASC and carries throughout her life every day at Regis Jesuit.
She came back to Regis Jesuit in 2018 and now works in the learning services Program. When Ms. Roberge talks of helping the kids at Regis Jesuit her face lights up with passion. She is inspired by not only the kids, but also by her mentor Mrs. Oliver, who is teaching her to work hard and dedicate her time to her students.
"I work with passionate, humble, and selfless people. They inspire me everyday. That's why I want to be back at Regis Jesuit working for a bigger cause with amazing people," Roberge says.
The loving community at Regis Jesuit inspired Ms. Roberge to return this school year and further promote a place in the learning services program where students can come and feel at home.
"Regis has a very special place in my heart. Regis has a community unlike many places I have worked previously," Roberge says.
Although Ms. Roberge appreciates every moment of her day at Regis Jesuit, she recognizes the struggles the learning service program faces and is striving to better the program by encouraging the students to reach their full potential. Ms. Roberge recognizes that although learning differences can be a struggle for students, she has the opportunity to create a safe place for them to succeed, despite any differences they have. In a hopeful voice, Ms. Roberge expressed her belief in the students of Regis and her hope for the future.
"RJ students can continue to create a safe and inclusive environment in which students feel empowered to have a learning difference instead of stigmatized," Roberge says.
As a women with and for others, Ms. Roberge lives her day in the most humble way: through dedicated service, which is why she ends every day thinking about her students and fostering a pure love for them with her mentor, Mrs. Oliver.
"My favorite part of my day is at the end of the day Mrs. Oliver and I will debrief about what happened that day and we usually will go through a range of emotions from laughing to crying with our hearts full of love for our students," Roberge says.
It is through the love Jesuit women like Ms. Roberge bring to Regis that makes the school such a special and welcoming place.