Season of a Lifetime
The stakes were high and the moment was as big as any. Oftentimes in sports, or simply in life, the question comes down to recovery—how do you recover from a loss? How do you rise up from the ashes and make a name for yourself? 
After winning the championship for three consecutive seasons, the Regis Jesuit Raiders hockey team was faced with high standards coming into the year. Losses come in many forms and after going 28-1 in the season prior, the Raiders hadn't tasted a loss in what seemed like a lifetime. 
The team, after losing fourteen seniors last year, held their heads high, eager to learn and grow. Yet, with the toughest schedule in the state of Colorado and with such high hopes, the team faced nearly insurmountable odds.
They opened the season with a win over Mountain Vista, but lost the next game to Denver East on December 13. Seniors Leighton Walsh and Nolan Sargent proved to be strong leaders and valuable assets as Sargent put up 7 goals and 15 assists, and Walsh added 11 goals and 12 assists. After passing the test and going 7-2 in one of the biggest stretches of the season, the team was steaming hot with just two games left until the playoffs, and it became apparent that they were as hungry as ever. 
Just when the team seemed to have recovered over the early season hurdles, they faced a tragedy. Head Coach Dan Woodley's son, Cale Woodley '16, passed away of a traumatic brain injury due to a tragic accident that occurred February 23.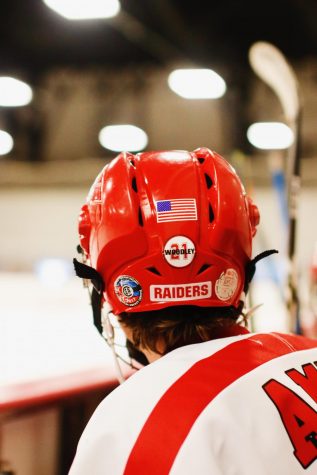 Cale touched the lives of so many and will never be forgotten. He won many championships while at Regis and was most proud of being part of the RJ hockey teams that won the 2015 National Title and the 2016 Colorado State Championship Title. 
Through it all the team showed courage, compassion, and resilience. They undertook a journey of true strength, a journey dedicated to the memory of Cale and to his father, Dan. 
Throughout the playoffs, the team fashioned a customized white sticker with Cale's number and name on their helmets. The team honored Cale with a moment of silence at Big Bear Arena prior to the first round playoff game against Mountain Vista. They continued their dominance with an upset over fourth ranked Denver East, to once again head to the Pepsi Center. With the Final Four and a matchup with top ranked rival Valor on the horizon, Regis Jesuit hockey continues to surpass all expectations, and play not just with one another, but for each other. Family and brotherhood: the two driving forces that compelled the Raiders to accomplish the season of a lifetime.