Varisty Baseball vs Thunderridge Game Coverage
The stands were packed, walkup music and side chatter were the predominant sounds. It was a tight game and the fans were really invested. The smell of grilled hotdogs and hamburgers lingered in the air as the game began. The fans chirping and the players cheering where the background noises for this afternoons event. RJ media reporters everywhere, getting videos and pictures for their own respective media stories.
With baseball season in full swing, we took a look at how the season has been going. So far, the boys have won 7 out of their 9 games. Currently, they are 1st in the 5A Continental league. Right now, they are on a 3-game win streak, and do not plan to stop. All of the boys on the team are super close and they can agree that the game really brings them together and builds brotherhood. "This is not a sport that you can just pick up, you have to have played it for a while if you want to get anywhere with it." Said Bryan Kenny.  For number 8 Tyce Smith and number 1 Brian Kenny, baseball is a game they want to play for the rest of their lives. Both boys want to play D1 in college and someday play at the professional level. Both of them feel like the team is playing very well together, and it shows in their record from this season.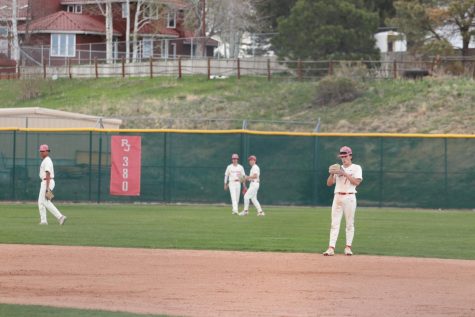 At the end of the day, this team is all about creating new friendships and learning in growing in the game that they love. Mostly this season has been a memorable one, with plenty of wins to build confidence within the team. One thing that you can take away from this season, and from Bryan Kenny and Tyce Smith is to work hard and never give up.