The Looming College Process
By: Caroline Daly '19
Why are students subject to intense pressure in high school? One contributor to the tension is the daunting college process. This process includes, but is not limited to applications, Early Action or Early Decision deadlines, costs, and outside help of counselors, parents, teachers, and many others.  While seniors are pressed to complete applications and apply to schools of their choice, financial aid is presented through scholarship opportunities. On top of this, class competition is prevalent. Overtime, this lengthy, but doable process has evolved and changed drastically.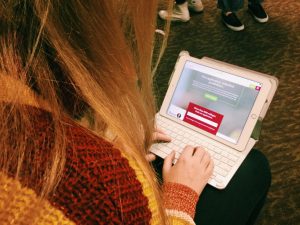 Amy Daly is a mother of senior, Caroline Daly, and graduate of Regis Jesuit, Tim Daly. She has aided her children in the college search and recalled the little pressure she had in 1987.
"It was pretty short and sweet. My parents wanted me to go to one school. There was no traveling all over the country to check out schools. We ended up going to two in the end because they were two hours from each other. My parents wanted me to see Creighton University and I was compliant. We eventually sent away a paper application in the mail after I took one ACT with no tutors, and not much in terms of college counseling..minimal at most", recalled Amy Daly.
However, Amy's limited options and low scale application process were not the cause of her stresses. It was more about leaving home that brought her strain.
The pressure of college applications is apparent. Many students feel at least some intense pressure from parents, friends, teachers, coaches, ect. High School Seniors across the country find themselves becoming involved in many extracurriculars during their final school year to have fun and maybe lighten their load, but also add to their resume. Competition to thrive is prevalent among seniors at Regis Jesuit High School according to seniors, Anni Schultze and Bohdan O'Shaughnessy. However, these high standards and continual encouragement to excel in applications is sometimes a good pressure.
Anni Schultze and Bohdan O'Shaughnessy concluded that early Junior year is a great time to start familiarizing yourself with the college search process. Both students emphasized the importance of not waiting to begin until the last second. Taking the ACT and SAT early Junior year will set one on track for hopefully achieving an admirable score. This positive mentality should also apply to the desire to not procrastinate on writing mini supplemental essays for each college. Schultze reflects on her most stressful experience, "when my scores were not where I wanted them, my counselor told me that I should look at more "safety schools" that I did not necessarily want to go to." Schultze remembers her self confidence plummeting.
O'Shaughnessy recalls first opening the Common App and his hesitation as well, "when I first heard about the application, it was so far in the future that I deemed it a "future me" problem. I was generally proficient in getting started early on my essays but actually applying seems so distant." O'Shaughnessy had to keep reminding himself that college is exciting and the idea of completing apps brings a lot of positive anticipation and in turn, hopefully much success.
After first recognizing procrastination is a poor method and applying to college is a necessary endeavor, O'Shaughnessy came to terms with reality.
"I am going to end up where I am supposed to be so I spent less time worrying and more time doing," said O'Shaughnessy.
It was not until O'Shaughnessy took some time to focus on himself and hone in on his passions that the process started to flow. "Whether it be music, sports, STEM…find something that makes you happy.  Applications are much easier to do if you have one thing that sets you apart from other applicants. Start thinking what career you intend to pursue in life as this can narrow down your list of possible colleges," O'Shaughnessy said.
Schultze's search evolved in a similar way. Originally, she could see herself anywhere in the country, but soon started to figure out what size school appealed to her and where her goals lied and if she would be able to go in undecided to certain schools. "I looked more in depth in what I wanted to study. After this, I sent applications to the schools I was interested in, and began attending college tours," Schultze said.
As Schultze hinted, campus tours are a crucial part of the process. If you want to get a feel for the campus, overall lay of the land, and student life, attending a tour can be beneficial. "Depending on whether the tour guide is passionate and personable can really have an impact on your perception of the college and its mission", Bohdan recaps, after his first tour experience at Boston College.
Through a parents' lens, these traveling costs to see schools add up. Amy accounts, "I think for us, we will narrow it down to maybe your two top choices and again if it's feasible for us, and makes sense time wise, we will maybe to go visit both of them again, but I do understand parents that that reserve those visits for after acceptance letters because it can be costly and difficult for parents to get off of work."
Money in general is a huge component of the college process. Whether that be in the form of buying a plane ticket to visit a school, paying the $60 fee to send away an application, or paying for the tuition once a student is decided. Thankfully, financial aid is an availability.
In the U.S., there is a significant gap between high/low income High School graduates attending college among the Latino(a) American, African American, and white population of  students. Studies show that the more kids who first recognize the availability of financial aid, then take advantage of the process with assistance from college counselors have a more successful chance of moving past the challenge of excessive costs of universities.
"It is especially gratifying to see kids who think that cannot go to college because of tuition costs find a way to make it work because they earned a scholarship based on good grades and hard work," Amy adds. For those that qualify for extra aid, it can be the difference between a student going to their top school or not.
"Financial and scholarship opportunities were helpful for me. Big universities that I am looking at have very high out of state costs, so applying for scholarships is important to me," said Schultze.
O'Shaughnessy also feels as though he will take advantage of scholarship opportunities presented to him in the spring of 2019 as it lessens the lingering expenses.   
As the process comes to completion for many students around the winter season, any form of encouragement from friends, family, and advisors is appreciated. "I would say be open. I would say be patient…and be proud of that chapter. Now, one can look forward to where they are going to be spending their next four years," said Amy.