Notre Dame: Our Lady of Paris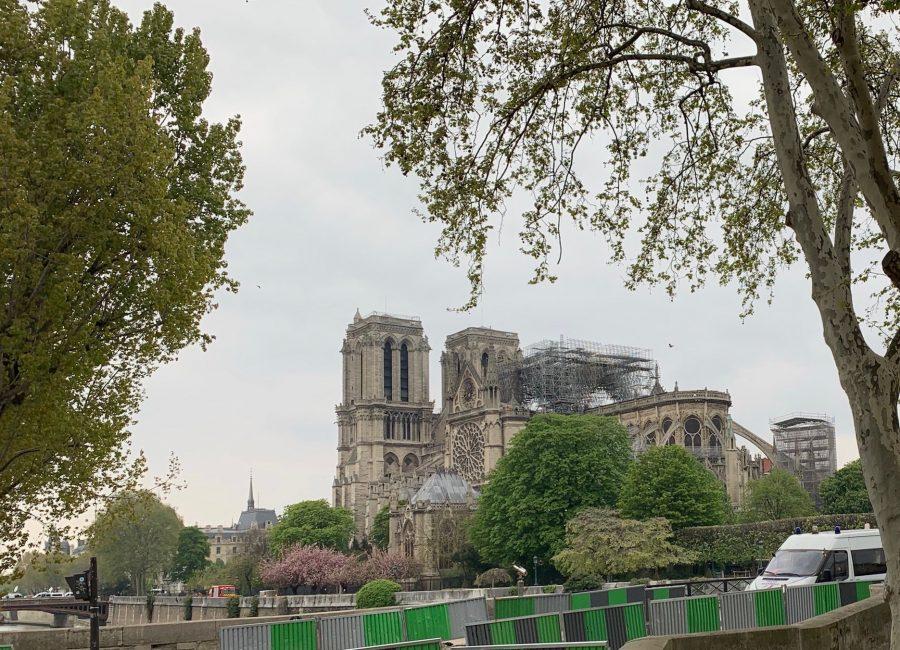 By Abby Gonzales '19 and Amelia Froehlich '19
"I was in my AP US Government class when the CNN notification popped up on my phone saying, "Fire at the Notre Dame." I texted my sister who was in Paris at the time before she had gotten the news. I continued to follow the live updates throughout the day and stayed in touch with my sister, updating each other." – Amelia Froehlich '19

"I had just opened up Snapchat, and the live news stories had a series of clips showing that the Notre Dame Cathedral was up in flames. Shortly after, Mrs. Meyerrose walked into the art room sharing the news with Mrs. Delzell as the spire had just collapsed." -Jaden Daher '19

"Well I was in Math class, and per usual we were doing some boring math stuff, but then one of my colleagues shouted out that Notre Dame was on fire. At first we thought it was the college here in America and a few jokes where popped, until we found out it was the classic historic Cathedral in Paris." -Sean Donovan '19

"I was in my fourth period AP Latin class. Someone in my class pulled up a video of the spire falling down." -Abby Gonzales '19-
The Notre Dame, a Roman Catholic Cathedral, is located in the City of Lights; Paris, France. Construction started in the 11th Century and completed during the 13th. Within the Notre Dame Cathedral, there are a multitude of religious relics, a 17th century organ still in condition to play, historical paintings, drawings, and other works of art. The Notre Dame has withstood the test time of Europe's history and serves as a symbol of the French people's love for their country.
At 6:20 pm local time, the first alarm sounded in the mists the celebration of mass.
At 6:43 pm the second alarm sounded, declaring a fire with in the historic Cathedral. Around 7:10, photos of smoke pluming around the spire began to circulate in the media. Firefighters first thought that the fire originated from the €150 million, 10 year project, later confirmed once the fire was put out.
8:05 pm, the fire climbs the spire, leading to its eventual collapse into the nave. The concerns then turn to saving the artwork at the Cathedral and watching the fire approach the North Tower. If the fire would have reached the North Tower, the structure would have collapsed and lead to more extensive damage to the Notre Dame.
With the efforts of over 400 firefighters, two helicopters and two water tanker the fire was stopped before reaching the North Tower and saved priceless relics; including the Crown of Thorns.
At 11:00 pm local time, the Archbishop of Paris calls for nearby churches to ring their bells in prayer for the Notre Dame.
At 3:40 am, the fire was finally fully extinguished.
Most of the priceless artwork was saved, but the state of some pieces like the Madonna, are still unknown.