Do Red Flag Laws Work?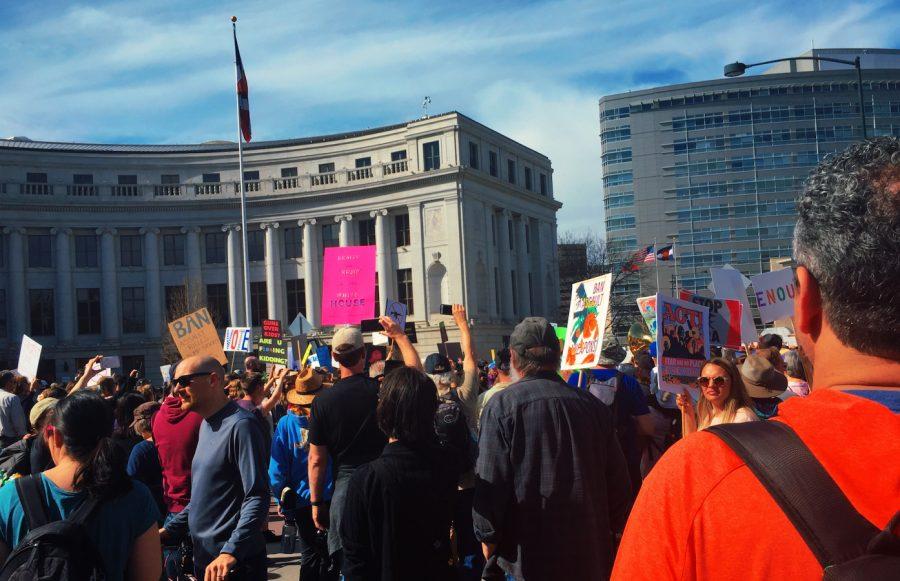 By: Ruth Woldemedhine '21
Twenty years have passed since Columbine. Six since the Aurora Theater shooting. Four since the Colorado Springs Planned Parenthood shooting. And the list could go on and on, it doesn't stop. Just recently, there was another shooting at Colorado's STEM School Highlands Ranch. Despite the devastating effects of gun violence in the state of Colorado, almost nothing has changed.
Colorado also holds one of the highest rates of suicide, especially in the age group of 45-60 year olds. Men are three times more likely than women to commit suicide.
The combination of multiple mass shootings and high suicide rates in the state of Colorado pressured lawmakers to pass HB19-1177, "Extreme Risk Protection Orders," known as the red-flag law. It permits authorities to seize guns temporarily from people courts deem to pose a threat to themselves or others. Families or law enforcement must first petition for a state court order and present credible evidence of concerning behavior such as social media posts or journal entries.
What Do The Critics Say?
Governor Polis recently signed the bill into and it will go into effect in January of 2020, although many counties have been promising to not enforce the law. In fact, Weld County Sheriff Reams said he would rather go to jail than seize the firearms.
"I don't support the red flag bill as proposed in Colorado because it doesn't do anything to address the root problem of violence, and it simply aims at gun confiscation," Reams said.
Reams added that he supports stricter background checks and eliminating bump stocks, but believes the red flag bill contradicts the second, fourth, fifth, sixth, eight and fourteenth amendments.
As a survivor of the Palo Duro High School shooting, and having people shot only a few feet away from him, Sheriff Reams believes that a more preventative system against mass shootings would be arming teachers.
"Not being able to defend myself was a helpless feeling and watching my teachers not be able to defend their students or themselves was equally troubling…if only one of them had been armed they could have fought back in a manner that would have mattered," he says.
Many advocacy groups for gun safety have retaliated against the arming of teachers, as many believe the job of the teacher is not to be a defender.
Reams' comments gained national attention, echoing beliefs held by many senators and congressional leaders, including Representative Pelton, who stated that he is against the bill because it lacks any kind of mental health support and describes it as "Being just another gun grab bill."
Other Senators, such as Senator Larry Crowder, believe that adding gun laws not only restrict gun use and infringe on the rights of the U.S., but they also believe these laws add to the problem.
Senator Dennis Hisey is another vote no for the red flag bill and finds it to be a deeply flawed system, as he believes it opens the door for false accusations and is an infringement of constitutional rights, since the person can't be present at the hearing.
This senator, as well as many others believe that the bill, "Does not address the real problem, which is the person with the mental health issues."
Senator Hisey said, "An amendment (Emergency Mental Health Holds, 17-38) that was offered to remove the mentally ill person from the home. This is allowed under current law and is often called a '72 hour hold' amendment, specifying that a mental health evaluation would be conducted and if found to be a danger to himself or others the courts could order additional custody and treatment, also allowed under current law."
1 Disturbed Person Shuts Down All The Schools In The City
Just recently, ahead of the 20th anniversary of Columbine, Sol Pais, an 18 year old from southern Florida, entered Colorado and purchases a pump-action shotgun with ammunition on April 15th.
She appeared to be infatuated with Columbine, as there were many picture of the shooters tattooed on her body. According to the undersheriff of Clear Creek County, she probably killed herself on the evening of April 15th, but her body was found on the 17th and appeared to be dead for over 24 hours.
Colorado became more aware of the threat on April 16th and many schools, including Regis Jesuit, canceled after-school activities, held indoor dismissals and more. The next day, many schools in the Denver-Metro area closed.
Regis Jesuit collaborated with local Archdiocese of Denver schools and the Denver-Metro area school districts to close the school and all activities for the day. Principal Tricco stated in an email to that community that, "The safety of your children is our priority," and asked for prayers, "For a quick resolution to this situation."
Tay Anderson is an educator and has served as a State Central Committeeman, Chair of the Colorado High School Democrats and much more. At 20 years old, his accomplishments have been recognized by many and he is running to become a member of the Denver School Board.
On April 17th, he tweeted out, "I live in a state where we told 750,000 students not to come to school, because someone wants to hurt them. #America."
This tweet gained almost 2000 likes and hundreds of retweets, as it voices the concern of many Americans. There is wide bipartisan support on who should access guns. A law that has gained support is the red-flag law, including support from the NRA. At the University of Texas, 72% of students either somewhat or wholly support the red-flag law.
Does It Work?
Despite interviews with many Colorado representatives and senators who voted against the red-flag bill, many had little to no contact with those in a mass shooting or organizations advocating for gun control, including the red flag law.
Former Supreme Court Justice Antonin Scalia once said, "The 2nd Amendment is not an unlimited right."
Many supporting gun regulation point to the fact that the 2nd amendment is not an absolute and use many other amendments to suggest that rights aren't unlimited. For example, the right to free speech doesn't mean that anyone can threaten to bomb an airport.
Senator Angela Williams is a proud supporter of the bill and an aide of hers, Meredith Cooke, says her support of this comes from the belief that, "All types of gun violence are a problem. It is more than just mass shootings, it is suicide and domestic violence that are harming Coloradans as well."
An advocacy group called "Moms Demand Action- For Gun Sense In America" came to speak to Senator Williams and she describes the experience as moving. The organization was formed on December 15, 2012, a day after the Sandy Hook school shooting.
It is a 'grassroots' movement and has a large focus on campaigning for "New and stronger solutions to lax gun laws and loopholes that jeopardize the safety of our families."
Everytown for Gun Safety analyzed and found that 51% of the time, perpetrators of mass shootings showed warning signs. The signs are even further shown in perpetrators of school violence.
"The United States Secret Service and the United States Department of Education studied targeted school violence incidents and found behavioral warning signs that caused others to be concerned in 93 percent of cases. They also found that in 81 percent of incidents, other people, most often the shooter's peers, had some type of knowledge about the shooter's plans," according to Everytown for Gun Safety.
In the state of Maryland, the law has prevented at least four cases involving "significant threats" against schools in 2018, in reference to the Maryland Sheriffs' Association.
Another common but overlooked threat with firearms are firearm suicides, as the state of Colorado holds one of the nation's highest suicide rates. In fact, according to the Educational Fund To Stop Gun Violence, as of 2016, 75% of the gun deaths in Colorado are suicide, and 52% of suicide are by firearm.
The fund also found that, "The firearm suicide rate in Colorado has been consistently higher than the national rate and has increased over the last decade."
When these laws are imposed, research done by Aaron Kivisto, a clinical psychologist with the University of Indianapolis found that, "In Indiana, for example, there have been some years where 80 percent of all gun seizures have been due to a concern for suicide rather than homicide or domestic violence reasons," he said. This lead to a 7.5% decrease in firearms suicides from 2005-2015.
The link between a decrease in firearm deaths by suicide, homicide, and mass shootings, and red flag laws continues to be studied and considered by lawmakers across the country. Advocates for the laws and critics who oppose the laws will be vying for voters attention, but early statistics show a link between these kind of bills and a reduction in gun deaths.