Regis Jesuit Students Walk Out in Solidarity with Stoneman Douglas High School
By Patrick Koenigs '18, Maxine Fuselier '19, and RJ Media staff. Photos by Anastasia Conley '18
More than 700 students walked out of Regis Jesuit High School at 10:00 AM on Wednesday, March 14th to stand alongside students from across the nation in remembrance of the 17 killed at Stoneman Douglas High School. A statement from RJHS school leadership was published to the community before the planned walkout.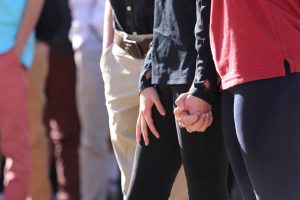 Members of the RJ Justice League led a prayer, a moment of silence, and a call for action. "We are stating that more needs to be done for safety in schools and that we, as students, have the right to feel safe in school," the Justice League wrote on Twitter. The walkout was meant to bring attention to the issue of student safety and open up an inclusive discussion between students about what to do moving forward.
"I am here to stand in solidarity with students of Florida," said Justice League leader and Student Council President Anna Van Jacobs. Another organizer, senior Nick Faber, felt personally connected to the movement because of the survivors from Columbine. "I was born a year after the Columbine shooting on April 20th," he said. It impacted him and motivated him to, as he put it, "stand up and speak out for what I believe in."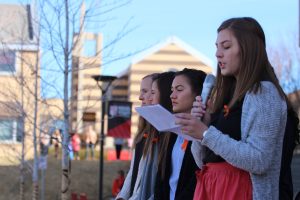 "I want more school safety," says Carly Markowski, a sophomore who walked out. Senior Jennifer Menjivar agrees. "We all deserve to feel safe no matter where we are."
"This is an issue that shouldn't be an issue," says junior Finn Barbieri. "The only way that we are going to solve this is with our students because it's been clear most lawmakers don't want to do anything about it. Students will be and need to be the leaders now."
Colorado Senator Michael Bennet responded to the students walking out with a tweet that said "we stand with you & commit to act." There are ongoing discussions but no legislation has been implemented on a national level to solve this issue. On the day of the national walkout – one month after the Parkland shooting – the "STOP School Violence Act" was approved in the House of Representatives in a 407-10 bipartisan vote and will now head to the Senate. The bill addresses training, physical improvements to schools to improve safety, and emergency notification and response training and technologies. During the walkout, RJ Justice League members encouraged students to call their representatives and continue to demand action.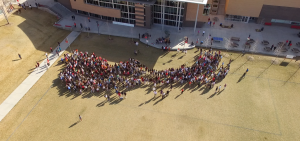 Jesuit leaders from around the world have spoken out for something to be done as well. "We adults have repeatedly failed,"  Father Michael J. Sheeran, SJ, President of the Association of Jesuit Colleges and Universities wrote in a letter to Congress and another to President Trump. "We have watched in admiration and awe as the poised, articulate young survivors of the Parkland massacre have beseeched adults to fix this. Now we must listen to our youth. We must not cruelly disparage them in this time of trauma, grief, and anger. Now we urge you, as President and Members of Congress, to listen and to fix this."
After fourteen students and three teachers were killed at Stoneman Douglas High School, Regis Jesuit students, along with students from across the nation, are working on continuing the discussion further. The fight for stronger student safety will continue with the March for Our Lives on March 24th.
Reporting by Olivia Bachmann '20, Sophia Marcinek '20, Katie Butefish '20, Sam Stern '20, Gustavo Flores Gomez '20, Hunter Sullivan '20. 
This story has been updated to include the full title for Fr. Michael J. Sheeran, SJ, the House bill that was passed during the day while this story was being reported, and the link to the statement from RJHS school leadership.