Chick Evans Scholarship For Caddies Gives Opportunities to RJ Students

Story and Photos By: Eliannah Angel-Lucero '19
Golf is not an easy sport. Whether it's a professional or leisurely game, anyone who has played a round of golf knows it can be mentally, emotionally, and physically draining. Golfers have a variety of tools they can use during any particular round, but one of the most invaluable assets in the game of golf, is the caddie.
Caddies do so much more than carry a bag for four hours. They're a second pair of eyes on a faulty tee shot, provide distance to the pin, keep clubs cleaned and organized throughout the round, and do many other tasks that keep the group on pace. For some, caddying is just a trade or summer job, but for others it's the chance to have a brighter future with a full ride scholarship to college.
The Chick Evans Caddie Scholarship was founded by Charles "Chick" Evans Jr., who was a caddie when he was just 8 years old. In 1916, Evans was the first person to win both the U.S. Open and the U.S. Amateur in the same year. Evans decided, with the help of his mom, that his winnings would go into a trust fund to grant caddies, with financial need, a full ride college scholarship. This act came from his own inability to complete college. In 1928, Evans collaborated with The Western Golf Association to manage the trust fund, and within two years the first two Evans Scholars attended Northwestern University. With the help of The Western Golf Association, Evans was able to impact more than 10,600 caddies who have received the Evans Scholarship since 1930.
There are only four requirements to be considered for the Evans Scholarship: a strong caddie record, excellent academics, financial need, and outstanding character. This means that an applicant must have caddied for at least two years at their sponsoring club the year they apply for the scholarship, have taken the SAT and/or ACT as well as maintain a B average in college preparatory courses, have a clear need for financial assistance, and must be outstanding in character, integrity, and leadership.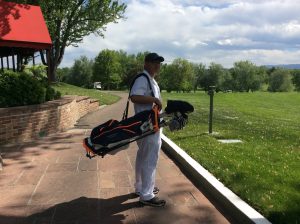 Throughout the years, a few of our very own Raiders have had the honor of receiving this life changing opportunity to attend CU Boulder. Including Ian Sevier '17 and Luke Hotaling '18, who are caddies at Cherry Hills Country Club. "Caddying has always been a family thing, so when I had the opportunity to get involved with the Solich Caddy and Leadership Academy out at Common Ground, I jumped on it," said Ian. "It was a great first step for getting into that sort of work. The Solich Academy really provides great training incentives as well as a focus on what it takes to be a leader, and that's really stuck with me. After I completed the two year program, I wanted to continue caddying at Cherry Hills. Pretty similar to the rest of my family I guess."
Luke Hotaling, who has been caddying since his freshman year, said "what drew me to caddying was the physical aspect of it, as well as the opportunity to get to know new people while making some money."
When asked what being a caddie has taught them, Luke said "I think caddying has taught me to be more conversational, open myself up to new possibilities, and be nice to everyone because you never know who you'll become friends with."
"The big things I've gotten from being a caddie are interpersonal communication skills, patience, and perseverance" said Ian. "Some days are going to be harder than others. It's about pushing through it, and continuing to move forward, even though some situations aren't ideal."
When asked if being a caddie has changed their life, Ian responded "I would 100% say it has considering I've gotten a full ride scholarship. I've gotten the opportunity to live in a house with 64 other scholars, and even though we don't all get along at times, in a way we're a family."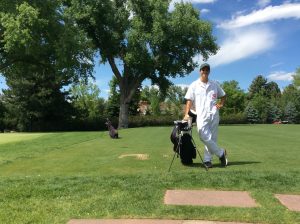 One can only imagine what it feels like to find out you're going to college for free, to set your mind on a goal, work hard, and actually achieve it. RJMedia asked what their reactions were to receiving the Evans Scholarship. Luke, who is the youngest of five children said, "I was really excited.. it took a weight of my shoulders to know that my parents wouldn't have to take out loans for a fifth kid. Now I can focus on making the best of the opportunity I've been given."
Ian recalls when he first found out. "I opened my mailbox and I just saw this big package. I'm thinking this is either really good or really bad, so I opened it hoping for best. I see this congratulations, and for me there was this huge wave of relief. There was a mixture of laughing and crying, and I just had to lay down on the concrete to take in what was happening. I remember, after a while, getting up and going home to show my mom who just starts crying as soon as she sees the letter. I just felt this huge wave of accomplishment especially since it's not easy to get to that point."
To end their interview RJMedia asked what advice would you give potential caddies who might want to go for the Evans. " My advice would be to have perseverance. It's literally a walk around the park, but sometimes it's not that easy. You just have to get through it. Also build up your work ethic, just keep pushing yourself to be better than you already are, you'll be better off for it," he said. "If you have the opportunity to go on a golf course, do something with your summer, and meet new people, you should absolutely take advantage of that. You only get as much as you put in, if you feel like this is something you can do, keep going cause it's worth it."
Luke agrees that the opportunity is a once in a lifetime experience. "It's an amazing opportunity for young adults to get to know more people in our community, and if you have the chance to become a caddie, do it."
You never know how far you'll go, if you never take that first step.
John Ogden, the Head Golf Professional at Cherry Hills Country Club, is an avid supporter of the scholarship.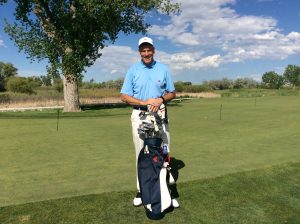 "Cherry Hills was founded in 1922, and the first round of golf was played in 1923. From our very first round, we've had caddies," says Mr. Ogden. "I've had people come up to me saying 'I grew up here caddying', and its just always been a youth based program. We have career caddies, but more than 90% of our caddies are high school kids."
When asked why the club wanted to support the Evans Scholarship, Mr. Ogden's response was "Clubs that have a caddie program, especially a youth based one, it becomes part of your culture and separates you from other clubs. You go anywhere else and there's carts everywhere. Here, it's a neat old place because you've got these young caddies and the members who are giving these kids something to occupy their time with while teaching them some good life lessons. I think that's the membership, they like to give back, and I think they look at it as a youth based program that's very important to them."
For Mr. Ogden, it about working with caddies directly. "For me I get kids when they turn fourteen, and I see them go all the way through high school, then go to college, and some of them keep coming back and caddying , and you see where they are in their lives and where they're going. Lots of them grow and progress in their lives. You can see the habits they've learned and that they're now successful and productive members of society and I like seeing that."
Mr. Ogden believes that the most important things to pursue are your education, and setting goals.
"Remember, when you set a goal you don't say I'm going to go for it, but know what the little things that you have to do to achieve it. You have to be disciplined. It's a great summer job, I'll tell you that. You'll look back on caddying 10, 20, 30, years from now and you'll have some fondness for it. You'll have some good memories of your youth and your high school years," Mr. Ogden says. "I wish I would've done it as a kid. I think I would've been a better person if I caddied as a kid. You get to interact, especially at places like Cherry Hills, with people who've been successful in their live and are pretty smart. You come to learn some amazing things."
For information about a Country Club with caddies near you, click here.