Junior Ava Laden Comits to Cornell For Soccer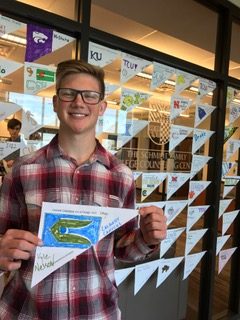 By: Jenna Newkirk '20
VIDEO Produced for RJTV by Roman Hamilton '20 and Danny Varga '20
Ava Laden has loved soccer ever since she was a four year old member of the Cheetah's soccer team. As a talented child, Ava's soccer skills were far more advanced than most people her age.

"I played with boys when I was little and I made them cry like every game," Laden said while laughing about her early soccer memories.

In the Spring of Freshman year, Laden made the varsity soccer team. She has been on varsity both her freshman and sophomore year. This year, Laden hopes to become one of the three captains of the soccer team.

Laden started reaching out to colleges freshman year, hoping they would consider her for one of their future soccer players. Schools could start reaching out to her this past fall. Laden has spent the majority of her junior year in contact with schools, searching for the best fit.

"I would email them my schedule for showcases and they would come watch me," Laden said explaining how she reached out to coaches. "If they liked me they would email my current coach or after last fall, they could email me directly."

Laden announced her verbal commitment to study and play soccer at Cornell University on February 12th, 2019.

A verbal commitment happens when a student-athlete verbally agrees to play a sport for a college before he or she signs or is eligible to sign a National Letter of Intent. This commitment is not binding on the student or the school and can be changed at any time.

Located in Ithaca, New York, Cornell is one of eight Ivy League colleges in the United States. With an overall acceptance rate of 14 percent, Laden has competed against the odds when committing to Cornell. Without having a official ACT or SAT score, Cornell told Laden to maintain her practice scores. They suggested keeping her class schedule rigorous and not letting her GPA drop too.

"This year I took two AP's and a Honors course so I am just going to do that again next year so it's not too hard but it's also not too easy," said Laden, happy she does not need to make her senior year too difficult.

Laden was seeking a school that would challenge her not only in soccer, but also academically. Division 3 schools were her backup if soccer and academics did not check out, but Cornell ended up having a Division 1 soccer program paired with great academics.

"I had a list of about 20 schools, like the Ivy Leagues that are good academic schools," Laden explained. "I wasn't trying to go to big Division 1 soccer schools, but more to schools with good academics."

The beautiful campus, challenging academics and rigorous soccer program at Cornell helped to sway Laden's final decision. Laden is the third girl in the 2020 Junior class to verbally commit to a school and the first to commit for soccer. Laden's advice for other student athletes who plan to compete in college is to be persistent and never give up.

And on why she chose to continue her soccer career in college, Laden smiled brightly and said, "Well, I wouldn't be me without it."