Antonio Segura: The New 5A Wrestling Champion
By Ryan Ringelman '21
Starting at the age of six, Antonio Segura found his passion for wrestling through his short football career. He was encouraged by his coach to start wrestling based on his tackling abilities on the field. Antonio started his Regis Jesuit wrestling career as a freshman on the varsity team. Wanting to return to State again in 2019, he hoped to achieve his dreams that had gone largely unfulfilled, over the past year.
"State was good. It was a little bit of a shock. It is a lot of pressure because I got to the quarters but ended up losing before I placed. It was a bummer but it helped me put back a fire into my wrestling," says Segura, describing his experience at the State Championships, in February of 2018.
During his Freshman year, Antonio continued on his Varsity level training and due to his national events and summer wrestling, Varsity wasn't that much of a change. Now that he is a Sophomore, and a captain, the roles have shifted from him looking up to his fellow wrestlers, to everyone looking up to him. The team has a very fun and supportive dynamic which helps during competition and practices. They are a hardworking group of boys and create a good balance between hard work and having fun.
"We're young and goofy. It's an interesting dynamic, you've got teammates yelling and screaming but we work hard," says Antonio.
Before heading off to Regionals on February 15th and 16th, Antonio described his normal routine before a match. Antonio begins with a playlist of songs and dancing, to keep his mind off his stress from the match. And while confident, Antonio is just like any other athlete when it comes to worrying about the competition and whether or not he could be pinned.
"What if there is a kid I'm suppose to beat and I lose and I just don't expect it. There's always the nerves of the unknown," says Antonio about his stress and upcoming matches.
He has been wrestling for longer than a majority of the people he competes against, giving him some advantages on the mat. As such, he found great success at Regionals, being one of only two Regis Jesuit wrestlers to make it to State, which took place on February 22 and 23.
"In my high school career I got an 11 second pin," said Antonio when talking about his fastest pin and overall skill as a wrestler.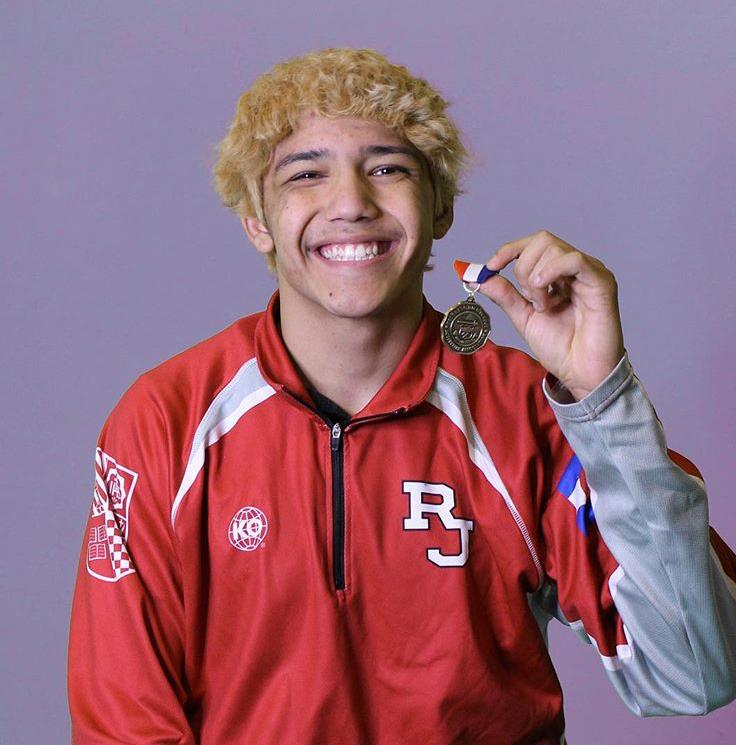 At State, Antonio beat every one of his opponents in the 145 pound weight class. During the second day of State, Antonio continued to amaze by placing first in the 5A division at the Pepsi Center.
"In the moment it felt a lot different. I mean you think about it, dream about it, then boom. It comes true and it's a feeling that can't be explained," says Antonio about winning the 5A 145 lb. State Championship.