Dear Freshman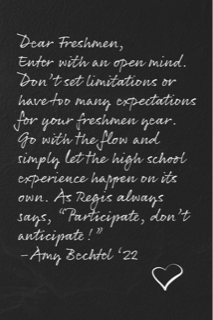 Dear Class of 2024, 
This is your big year! It's your year to make new memories, go to your first football game, and to meet new people. Dive in with an open mind. You just might find something new you love to do or even rediscover something old. Just have fun! Below are a few things I wish I had known before coming to Regis as a Freshman. 
Get to know lots of new people, even if you think you have found your group.

When

I came to Regis I already knew a lot of people, but most of them were just acquaintances. I was worried about making real friends. During the first few weeks, I met many new people and rapidly made friends. My advice to you is to reach out to others, ask someone to sit with you at lunch, or hang out with someone in the lunch line. Remember, when you think you've found your group, continue to invite others to join in.
Don't be afraid to be yourself.

I know this sounds cliché, but it is true! The students and teachers at Regis are kind. They will accept you for who you are. 

Ask teachers for help if you need it.

The teachers are there for you and want to help you. Ask questions in class and be sure to visit them during academic support. 

Write down assignments because not everything is posted in Canvas!

I can't tell you how many times I missed an assignment because I forgot to write it down. Sometimes the

assignments posted in Canvas have the wrong due date, or the wrong requirements listed. 

Ask to sit in the front of the classroom if you are easily distracted.

When I was a freshman, I preferred to sit in the back, but I was easily distracted by other students' iPad screens. When I asked to sit in the front, I found it easier to focus. 

Don't wait until the last possible minute to do your homework.

You will feel rushed. If something doesn't make sense to you, you won't have time to get help. I recommend doing homework the night it is assigned to help avoid this problem. 

Try new things!

If you have always wanted to be in theatre, try out for the play! Don't let anyone hold you back. High school is the time to explore many different things. As a freshman, it is the perfect time! 

Complete your service hours early.

A lot of stress is avoided by doing this. Time passes

quickly, and by spring break, you don't want to end up with half of them left. T

ake advantage of every opportunity to do service until the annual hourly requirement is met. 

It is ok if you don't feel like you are fitting in.

It takes time to

build new relationships and to find your people. By the end of Freshman Retreat, you will

definitely feel you are a part of the sisterhood/brotherhood. 

Lastly, enter with an open mind.

Don't set limitations or have too many expectations for your Freshman year. Go with the flow and simply let the high school experience

happen on its own. As Regis always says, "Participate, don't anticipate!" 
Open your hearts and have your best school year yet! 
Sincerey, Amy Bechtel '22