The New Code Red Restrictions Affect on Gyms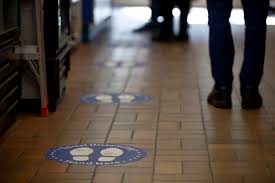 Kayleigh Muniz '23
December 16, 2020
On November 17th, Governor Polis came out with a new color restriction that is being put in effect on November 20th. With the spike of Corona cases in Colorado, we are now in code red.
With the new color being put in place it is effecting all Colorado gyms and how they run.
"CDPHE is making updates to the Red level of the dial that will ask Coloradans to avoid all interactions with people outside of their households to help lower transmission rates," Polis shared.
Because we can't have as many people gathering together, gyms have had to come up with ways to stay safe and ways to have online options.
"Gyms can operate at 10% capacity or allow up to 10 people per room with reservations. They can also operate outdoors in groups of up to 10 people," Governor Polis said.
Even though Governor Polis said through restrictions that we can still be together at 10% capacity, that is not what he recommends.
Polis shares, "In person personal gatherings are not permitted," and "all at risk populations are recommenced to stay at home."
Senate President Leroy Garcia shares, "This epidemic has torn through our country with unmatched aggression and unrelating persistence. It has claimed the lives of more than 247,000 Americans and left families ripped apart."