Ups and Downs: Predicting the last 8 weeks of the Premier Leauge Season
With 8 match weeks left in the 2021-22 Premier league season, there is sure to be drama. With a fierce battle at both ends of the table, Raider Sports Network predicts the final table by looking at fixture difficulties.
1. Manchester City (Champions)
Notoriously one of the best teams in the world in recent years, Man City have to fight off Liverpool to defend their title. By comparing City's fixtures with those of Liverpool, it looks like the run is easy. But City are not only fighting for the Prem, but also the FA Cup, and, arguably most important to manager Pep Guardiola, the UEFA Champions League title. The Citizens can't afford to drop points, but they also can't afford to drop fitness levels. The possibility of the Quadruple for Man City will surely be enough motivation.
2. Liverpool (Champions Leauge)
Liverpool want to regain the title they last won in 2020. After being knocked out of the Champions League, Liverpool need a trophy to determine their season a success. Facing Man City in the Prem on April 10th will be a tough fixture, but could also be showing of the Semi-final of the FA cup between the 2 rivals. Liverpool then face Aston Villa, with familiar faces in Steven Gerrard and Phillippe Coutinho. They then face lower table teams, such as Newcastle, Everton, Southampton, and Wolves. They face tough challenges in getting past Manchester United and Tottenham, who are both fighting for European football next season.
3. Chelsea (Champions Leauge)
Chelsea have fallen short of the title race this season, but still want Champions League games in 2023. Their main focus should be the second leg of their quarter-final against Real Madrid, as they face somewhat easy teams in the prem. Chelsea have quite a few games in hand, due to postponements. Thomas Tuchel's men can't let the off-field drama of Roman Abramovich's sale get in the way of their fight.
4. Tottenham (Europa Leauge)
While Tottenham haven't had the season they dreamed of, they still want Champions League football, not mainly for success, but to keep star striker Harry Kane at the club. The 2018 World Cup Golden Boot winner wants a big stage, and Spurs will have a tough time keeping Man City away if they don't qualify. They face many relegation-threatened teams, with the biggest challenge being Liverpool. Spurs need to hold off their North London rivals, Arsenal, to guarantee success in future years.
5. Arsenal (Europa Conference Leauge)
Arsenal's season has been… lackluster. Captaincy drama has overtaken the club, and with no real leadership, they could fall apart at any moment. The Gunners face a somewhat easy fixture list, and we predict they will get European qualification, but only in the form of the Europa Leauge
6. Manchester United
Manchester United have disappointed their large fan base this season. With the signings of Jadon Sancho and Christiano Ronaldo, the Red Devils had higher hopes. They have turned their season around after the hiring of Ralf Rangnick, but the Salford team need to rebuild their aging squad to meet their fan's expectations next season
7. West Ham
West Ham will narrowly miss out on European fixtures next year, but have the opportunity with the Europa Leauge quarter-finals. The hammers have certainly had a season to be proud of. David Moyes' team have made headlines in the past few seasons, and are quickly becoming a well-established top-table team. If they can hold on to Midfield Maestro Declan Rice, West Ham fans can hope for some big years in the coming seasons. 
8. Aston Villa
Aston Villa have turned their season around, after firing Dean Smith. They made headlines after hiring Steven Gerrard, and the loan signing of Phillippe Coutinho has massively helped their season. They have a few tough fixtures, but ultimately they are a team to watch in the coming seasons.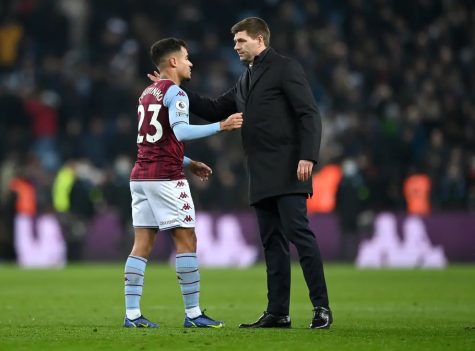 Former Teammates Phillippe Coutinho and Steven Gerrard embrace after a match.(Getty Images)
9. Wolves
While Wolves would have hoped to make Europe this season, the team has had mixed form. They face all three of the first three teams in the table but have no threat of relegation. Bruno Lage will want to make significant signings this summer, so his team can fight for a top 6 finish. 
10. Leicester City
After winning the premier league in 2016, Leicester have been in and around the top 6 in recent years, but that isn't the case this season. The team will want to go as far as possible in the Europa Conference League, to have the season the foxes' fans want. The big question this summer is that of Jamie Vardy. The 35-year-old striker is close to retirement, but how many more seasons can he last? 
11. Southampton 
Southampton have had a very Southampton season. Some great moments, 8-0 in the FA cup, but also some tough losses. They face a relatively easy fixture list, but their hopes of success this season are slim. If they want to break their recent runs of mid table finishes, the Saints should look at making signings to boost their hopes of climbing the table.
12. Crystal Palace
Crystal Palace have had a decent season, and any fears of relegation have been put to bed. The signing of Arsenal legend Patrick Vieira has benefited Palace, and they will do anything they can to hold on to England Midfielder Connor Gallagher, and make his loan from Chelsea permanent. Gallagher has made a noticeable impact for the Eagles, and if they want to fight for higher finishes, they need to keep his name on their team sheet.
13. Newcastle
Cash is king in this era of the Premier League. Newcastle were heavy favorites for relegation early in the season, but since the takeover by PIF, a Saudi Arabian investing firm, Newcastle have done a full 180 and switched their tone. The signings of Kieran Trippier from Athletico Madrid and Chris Wood from Burnley have greatly helped Newcastle this season. With all their new oil money, Newcastle are sure to make headlines in the summer, with big-name signings.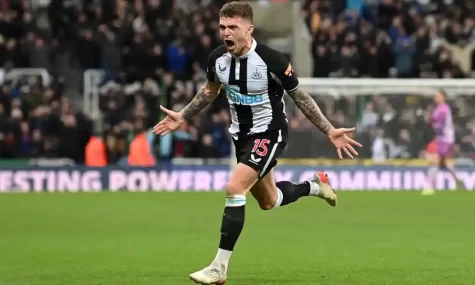 Kieran Trippier celebrates after scoring a superb free-kick against Everton (Owen Humphreys/PA)
14. Brighton
Brighton have had a somewhat comfortable season, and they look safe for the next few years. They have money to spend, after selling Ben White to Arsenal for 60 million pounds. Graham Potter will be a manager in demand, but the seagulls will hope he stays faithful and helps them gain European football in the next few years.
15. Brentford
Brentford are the team nobody hates. They have had a successful season, after coming straight from the championship. The big story with the Bees is the signing of Christen Eriksen, who made headlines when he suffered cardiac arrest during a match in the Euros this summer. Brentford can't afford to drop standards next season, as they want to keep their Premier League status.
16. Leeds United (safe)
Leeds United haven't had the season they wanted. After finishing 9th in the table last season, their first season back in the top flight in 16 years, the Whites want to guarantee safety this season. Clubs will do anything to stay in the top division, and Leeds showed us that this season by firing the manager who changed the club and earned promotion, Marcelo Bielsa. They replaced him with American Jesse Marsch, who needs to gain the feel of his squad this season, and fight off any Ted Lasso stereotypes. Leeds have been riddled with injuries this season, with Kalvin Phillips, Patrick Bamford, and Raphinia all having lengthy spells off the game. Leeds' priority is to stay up and to do their best to hold on to their star players. Raphinia is rumoured to be heading off to Barcelona, but Leeds will make a profit if that turns out to be true. Leeds fans would be devastated if they lost England Midfielder Kalvin Phillips, their hometown hero. The Yorkshire club have had good results in recent weeks and will hope to be safe from the championship in a few more.
17. Everton (safe)
Everton have had a pretty significant downfall this season. Expectations were high and weren't met by Rafa Benitez, so they made the decision to fire him. They replaced him with Chelsea Legend Frank Lampard, who made big signings in Dele Ali and Donny Van De Beek. The toffees will want to stay safe this season and rethink their ideas in the summer. 
18. Watford (Relegated)
Watford were one of three newly promoted teams this season, alongside Brentford and Norwich. They lost striker Troy Deeney in the summer, and haven't filled Deeny's role, both off and on the pitch. We reckon the hornets will be saying hello to the Championship, and will most likely be fighting to say hello to the Prem again in 2023.
19. Burnley (Relegated)
Burnley are a scrappy team. They hoof it up to the number nine and hope to score. Their number nine in recent years has been Chris Wood, but after his transfer to Newcastle, there is no one to hoof it to. We think Burnley will do well in the Championship, and it's likely we could see them again soon. The Championship is a notoriously physical leauge, and Burnley have a similar reputation, so it's a match made in heaven.
20. Norwich City (Relegated)
Norwich haven't had a surprising season, by their standards. This season has been a repeat of the 2019-20 season, and after winning the Championship title, the canaries can't compete in the top division. They are a team known as a yo-yo club, as they often go up and down. Norwich have had an upsetting season, and it could get more depressing as the teams they face are playing for European football.
Other predictions 
Final Day Frenzy.
There is a high chance the title battle could go to the last day, as Man City and Liverpool fight for glory. Could we see a repeat of Man City's dramatic win in 2012? Could we see Jürgen Klopp get the last laugh? We'll have to see.
More protests. 
In recent weeks, protesters from the "Just stop oil" group have been disrupting matches in the Prem. Notably, tying themselves to goalposts. We think we'll see more people trying to display their climate change message before the end of the season.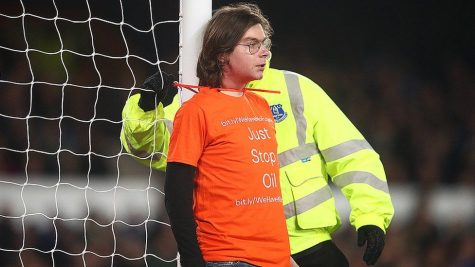 A Just Stop Oil protestor distrusts the Everton-Newcastle match (Getty Images)
Do you agree with our predictions? Disagree? Have any hot takes? Lets us know in the comments.