Missy Franklin '13 Vists Alma Mater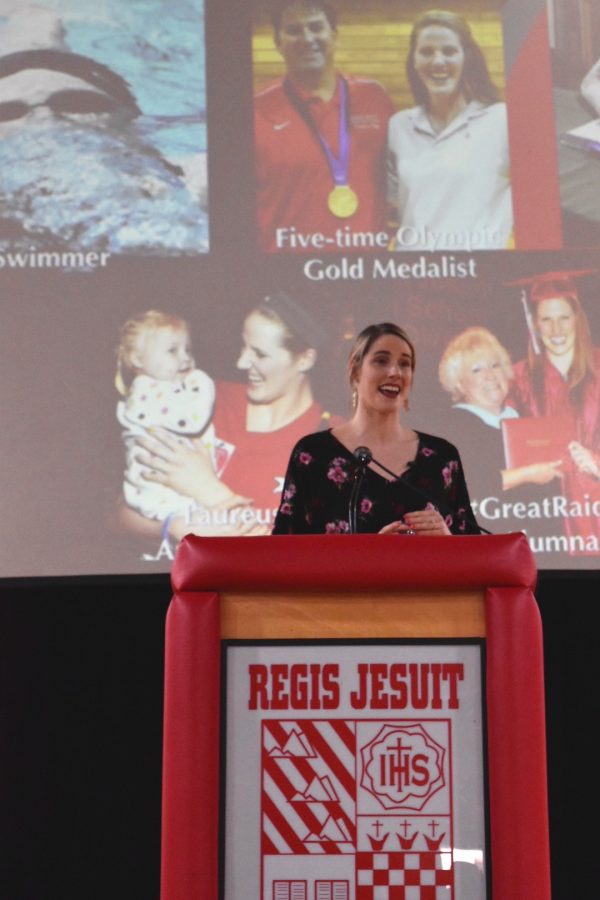 By Erin Bailey '19
On Wednesday April 3rd, Missy Franklin '13 returned to Regis Jesuit to speak with the entire student body. Although her talk to the student body included many lighthearted moments such as Gavin Gregoire '19 asking the 6'1″ swimmer to prom, a demonstration of the "worm" , and discussing her favorite teachers; Franklin focused her talk around a very important and relevant topics to the Regis Jesuit community: depression and mental health.
In the midst of many tragedies in the greater Denver region, Franklin's message to the student body was important and hit close to home, for many Regis Jesuit students.
When reflecting on the presentation, senior Gigi Pacheco says, "That many people are hurting so much with everything that has happened surrounding our community and a lot of kids feel alone in that. Missy came across as really relatable and friendly and was a good reminder that we are not alone."
Franklin talked about her own struggles with mental health and depression following the 2012 Olympics. She encouraged all Regis Jesuit students to ask for help if they are struggling with these issues stating that "asking for help is one of the bravest things you can do".

Her testimony was truly invaluable to many students as her struggles resonated with many members of the community including Fran Belibi '19. Belibi adds that "her message really rang true to what so many students here at Regis Jesuit experience every day."
Franklin also talked about some of her favorite moments while at Regis Jesuit, including going on and leading Kairos. She included some examples of how her faith was able to ground her when she was suffering from depression and anxiety. She ended with a reminder to students of how they are loved by the Father and have the love and support of the entire Regis Jesuit community.