Nuggets Unified Game Takeover
At the side of the court stood Rocky the Mountain Lion, the Nuggets mascot. He cheered voicelessly, yet louder than anyone else. The Regis Jesuit Raiders Unified Basketball team took on Overland High School fiercely as the crowd was roaring with excitement.
On Wednesday, February 19th, Regis Jesuit had the incredible opportunity for the eminent Nuggets Special Olympics Unified Game Takeover. The bleachers were filled with attentive students, parents, and teachers. The court not only housed the athletes, but also the Nuggets hype squad and cheerleaders. The fans would be fueled by their roars and jumps, and carry the same energy throughout the game.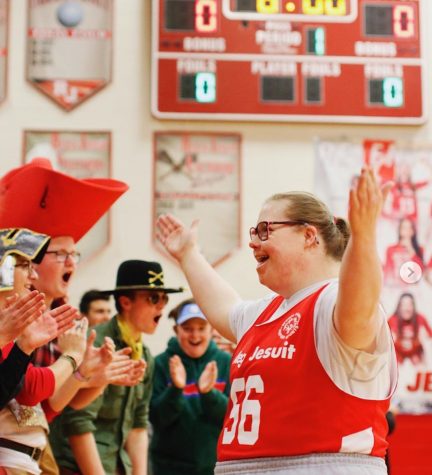 As the cheerleaders stood parallel from each other with poms in hand, an announcer called the athletes by name and they sped through the opening, jumping up to high five the two 6´5" men at the end, one a coach and the other a former player. The athletes beamed with smiles as they ran through.
Throughout the game, Rocky and the hype squad interacted with the fans. They through balls, tee shirts, and high fives all around. The audience was gleaming with delight and competition, as they fought for the prizes thrown at them. During halftime, Rocky attempted his famous half-court shot, while the rest of the squad cheered him on with backflips. Regis Jesuit also received a check from the Nuggets toward the Unified Program after Rocky's half time show. It truly was an experience of a lifetime.
The game itself was intense and both teams did a tremendous job. Regis Jesuit was down by quite a bit in the first half, but stepped it up during the second, thanks to team players Hector Gomez and Travis Bruley. Regis Jesuit lost by one point, finishing the game at 47-48.
Special Olympics, however, is so much more than it's sports. This organization and club not only offers oppurtunites for adults with physical and cognitive disabilities but also an experience of community. "Special Olympics to us means being part of a family," Coach Christina Nelsen'20 said, alongside Coach Ellie Fox'21. One of the first things anyone can notice about this team is their joy. "There's a lot of happiness," says Coach Will Munro'20. "Our athletes are the ones who bring the most happiness to anyone on this team."
If you are interested in the Unified Program, please come to the games on Wednesday Nights at 7. There are also club meeting during lunch on Wednesdays in the Boys Division.