The collaboration that we didn't know we needed
Brent Faiyaz and Tyler the Creator release their new track Gravity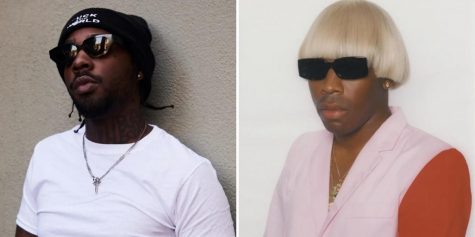 Brent Faiyaz (right) (Darren Xu) and Tyler the Creator( Sam Rock) (right) ?collaborated for the first time?
After a year without an album release Tyler the Creator, connected with Brent Faiyaz
for the new track "Gravity." This is the first time Tyler and Faiyaz have worked together on a track. It's also the Odd Future rapper's first track of 2021.
Critics, including Charlie Zhang from hypebeast.com, are impressed with the rap-R&B collaboration.
"Measuring at a little over three and a half minutes, 'Gravity' is imbued with a calm soulful groove that emphasizes Brent's distinct R&B-style vocals," Zhang remarks.
There's a handful of gentle instruments like synths, electric guitar, rim shots and airy drums, and  harmonized background vocals that make for an eloquently warm sound.
Gravity is not just seeing critical success; it's caught the attention of the masses, too. Already themost popular R&B single of 2021, it's number 36 on spotify's "Top songs USA."
Since the release, both artists have been "doing their own thing" with Tyler giving hints about his new album.
Faiyaz music was featured in a Calvin Klein commercial, though fans believe "Gravity" is a comeback after he canceled his tour last year due to COVID and released one single in September called "Dead Man Walking."
Brent's music is evolving and fans are here for it.
"Within a couple of years Faiyaz will be at the top of the music game. His music is timeless and it's going to age so well," Axel Tanner said.