RJHS Mock Trial and Speech and Debate Teams spend their Saturdays tackling real world problems and skills
Hang on for a minute...we're trying to find some more stories you might like.
By Alexis Berry '19
After eight strenuous hours of rigorous competition at the Denver District Court House, Regis Jesuit Mock Trial team members sprint through the bright lights and flashing arcade games of Dave&Busters to arrive in the back room just in time to hear the results from the 2018 Providence Cup.
Standing in crisp suits having just arrived from their championship round, the upperclassmen team of Jacob Botaish '19, Max Bruns '19, Alex Erwin '19, Ryan Mahoney '19, Mati Rogers '20, Morgan Schaaf '19, Duncan Whipple '19 and Sean Zoellner '19 anxiously wait to hear the winners of the tournament.
As their names are announced as the winners of the tournament, senior Sean Zoellner recalls the experience as surreal.
"We didn't know what to do with ourselves. All our work had finally paid off for something, and I couldn't believe it," Zoellner said.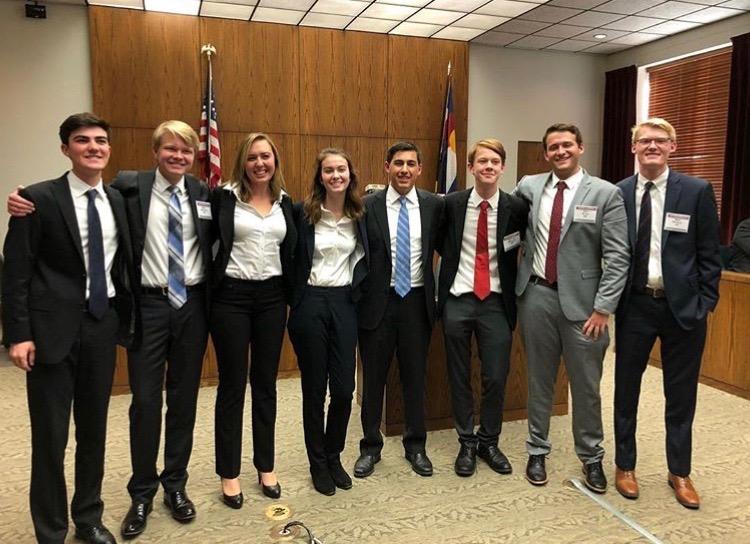 Despite the apparent chaos of this tournament day, the preparation from frequent and lengthy practices and the importance of exact procedures to be carried out in the courtroom represents quite the opposite. With two high school teams acting out a criminal trial by arguing for either the prosecution or defense, mock trial requires not only talented acting skills when playing the part of a witness but also a sharp wit for questioning the opposing side as a lawyer. Attorney from Providence Cup, junior attorney Mati Rodgers sees this activity as an interesting combination of theatre and debate. "It's the worst parts [of them] combined," she says.
Winning Providence Cup in the first time in ten years and being in the top four the past three years, the Regis Jesuit Mock Trial team looks forward to a promising season that would hopefully conclude with a state championship victory.
Beyond the victories, Mock Trial members encapsulate the team's goals in describing their Coach Casey Krizman's, current defense attorney, annual speech on how they will make mistakes but powerfully concludes with asking that they prove him wrong.
Rogers says that Mock Trial "teaches you to look at the world in a different way. It not only helps you incorporate a sense of justice in using morality and ethics a bit differently but also in taking every side of a viewpoint into account in obtaining a more rounded view of the world around you."



That same Saturday morning, the sun has not yet risen when Speech and Debate captains Sabrina Jain '19 and Kevin Reyes '21 arrive at Chatfield High School to begin preparations for the Jeff-Co Novice Speech and Debate Tournament.
At around 7 AM, the novice or new debaters, and the rest of the team pour into the crowded and noisy cafeteria where they feel nervous for the unknown of the rounds to come that day. As a 14 hour tournament day looms ahead of up to 40 different high school debate teams, it is obvious that there is a heightened energy about the room.
Speech and Debate co-captain, sophomore Kevin Reyes explains that the nerves show in different ways at tournaments.
"Some people are pacing around everywhere. Some people are rereading their cases. Others are trying to distract themselves. And some are frantically practicing their speeches in front of walls," Reyes said.
Beyond the last minute stress of the morning of a tournament, Speech and Debate members have managed to be very successful in their endeavors so far this season. With a successful novice season as well as a seamless transition into the varsity season, the team has won 96 awards so far this season and looks forward to a continuation of their success as they prepare for state and national qualifications after Winter Break.
"The number of awards do not fully tell the story of the team's success and improvement," Reyes says. "Everyone has been working extremely hard and that work certainly shows in how every single member has greatly developed and improved both at their event(s) and in their communication skills overall, and personally, I couldn't be happier with the way things have been going this season," he concludes.
The team has had incredible success but senior co-captain Sabrina Jain '19 explains that preparing for speech and debate tournaments also empowers their members to be more successful in the classroom.
She describes how in addition to transferrable skills in the classroom, debate also enables "students, who are the future leaders of this world, to be multifaceted individuals who are able to contribute to the marketplace of ideas"