Investing for the Win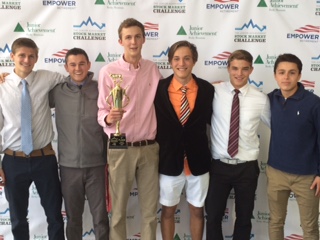 Last Friday, Regis Jesuit participated in an JA Stock Market Competition at Denver University. There was a total of 55 teams, four of which were Regis Jesuit teams. Each team consisted of six Regis Jesuit students. Alex Strutman '17 lead a team of fellow students to first place, as Mr. Malsam helped coach them for this win. Another Regis Jesuit team took fourth.
This is the fourth time in the last eight years that Regis Jesuit has taken first place in this competition. The winning team this year won Samsung tablets.
"It's fun watching students getting excited about things outside the classroom involving money and being strategic with their money," says Mr. Malsam.
The JA Stock Market Competition is an opportunity for high school students across Colorado to get together and practice investing and dealing with the pulse of the Stock Market. This year over one thousand students from forty high schools in Denver took part in this Competition, and Regis Jesuit students were amongst the top.