What's a CAPSTONE?
On Friday, April 16, many seniors at Regis Jesuit High School Presented Their CAPSTONE project.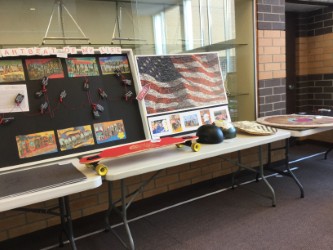 CAPSTONE.
An important project that applies to all seniors. Many presented their projects on Friday, April 16.
"It's basically a project for seniors representing there four years at Regis," said Regis Jesuit Rowdy Moose. Although he did not present, Moose said he is working hard on his project.
Between Junior Hall and the Cafeteria, many projects have been spread out to give Juniors, Sophomores, and even Freshman an inside about what CAPSTONE is.
So how long did students spend time on their projects? Although the time varies, senior Chase Becker says that projects take several hours. Some projects take just two or three and others took around fifteen.
There are endless possibilities of what students can do for their projects.  Many chose sports as people have brought in golf bags, lacrosse sticks, and even a diorama of four tennis courts.  Others chose a different path.  For example, many people have have created very artistic projects with many pictures to represent their four years at Regis.
The CAPSTONE project gives seniors a chance to express themselves through hard work and creativity. How will you represent yourself when you have to recreate your four years at Regis Jesuit?