The World Reacts to Covid-19 as the Holidays Begin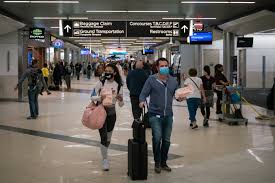 As many families travel and get together during thanksgiving, U.S. health officials predict another surge of covid after Thanksgiving time.
Dr. Fauci, an infectious disease doctor predicts cases to rise in the U.S.  after Thanksgiving and Christmas time.
On Meet the Press Fauci said, "We might see a surge superimposed upon that surge that we're already in."
Dr. Fauci wants people to know that they can still try to stop the surge. there are things individuals can do to stop the spread of the virus.
His advice to those who travel is,  "if it is possible, quarantine yourself for a period of time," he tells ABC.
Dr. deborah L. Birx who is the White house Covid coordinator finds it important to think of others and their health, in addition to yourself when you are coming back from vacation over the holidays.
"Those who traveled have to assume that you were exposed and you became infected and you really need to get tested in the next week," she tells CBS news.

As the holiday season begins now Dr. Birx tells the American people to: "protect yourself and your family."