Get A Life: RJ Seniors Travel to Washington D.C. for Teach In
Parker Biley
December 4, 2019
by Parker Biley '20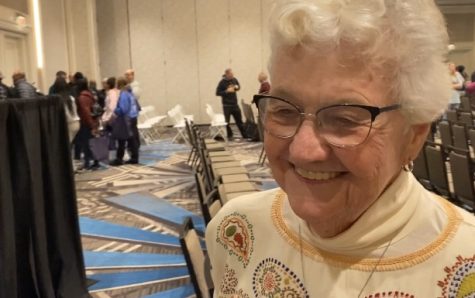 "Get a life serving in solidarity," Sister Peggy O'Neill, SC said to a captive audience of 2,000 Jesuit high school and college aged students the weekend of November 15th at the Ignatian Solidarity Network's Ignatian Family Teach In, hosted in Washington DC. Students from all over the country, and international students from Mexico, Portugal, and Guatemala, gathered in our nation's capital with a shared passion for social justice and desire for reformation. The Teach In is dedicated to the lives of the Salvadoran martyrs who gave their lives to protect their beliefs and their faith during the Salvadoran Civil War in 1989. The conference itself is deeply rooted in Jesuit ideals and focuses on social injustices within our government. The topics discussed at this year's conference included criminal justice, migration and immigration reform, and environmental justice. Students dialogued and advocated for these issues using research and talking points from the Ignatian Solidarity Network and from the United States Conference of Catholic Bishops.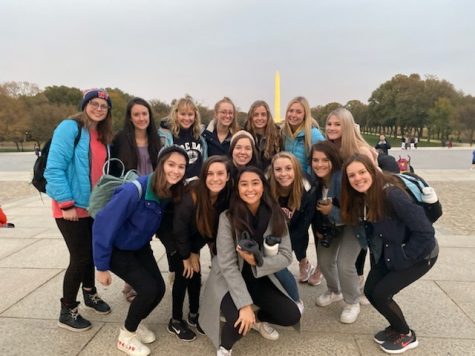 Fourteen Regis Jesuit senior girls had the opportunity to travel to Washington DC to partake in this formational experience. They had the opportunity to see iconic landmarks in United States history such as the Lincoln Memorial and Holocaust Museum, and to attend the actual Teach In conference to hear stories from individuals who have dedicated their lives to social justice issues. The girls had the privilege to hear stories from Sister Peggy, a nun who has lived in El Salvador serving the marginalized. She explains the importance of indulging oneself in service and justice for others. They also were fortunate enough to hear real, first hand accounts from Guatemalan and Honduran immigrants who explained their experiences and struggles crossing United States southern border. One immigrant from Guatemala, Martina explains that she fled from her hometown to pursue a better life. She was considered an outcast where she was from because she spoke a different kind of Spanish than everyone at her preppy, private high school, and because her family was poor. She went to school on scholarship and maintained good grades, but her scholarship was revoked because she had a different way of speaking Spanish, and because her family had little money, she was forced to end her schooling. After experiencing this injustice, she made the decision to leave Guatemala, her family, and everything she knew. She says,
 "Crossing the border and deciding to come to America was hard, but leaving my family was harder," Martina said, "They were too scared to come with me because they were worried we would get caught. I had to leave everything behind and when I got to America I was scared because I didn't speak any English, and I knew I couldn't go back." 
She also explained the hardships she faced while being detained in a detention center while waiting for her asylum hearing,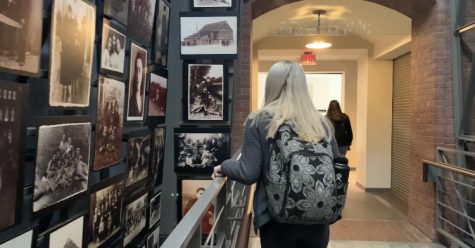 "I couldn't go outside and there were no windows in the center. It was dark and it felt like a living hell. I was only there for 98 days but it felt like years. I missed my family and I couldn't even contact them while in the center," she describes. "It was so lonely and I felt like giving up but I finally had my hearing and was granted asylum and I knew that all the pain I felt was worth it and that my life was starting to turn around."
Students also had the opportunity to hear from Juan Carlos from Honduras. Juan Carlos didn't speak any English and needed a translator to express what he had said to the audience, but it didn't make his speech any less impactful. Juan Carlos fled Honduras to escape the poverty which he grew up in and a corrupt government. When he tried to find the proper paperwork from the government to attempt to acquire a green card, the government offered no help and Juan Carlos was forced to make the decision to cross the southern border to escape the poverty he faced and the government which refused to help the people of Honduras and oppressed them. He travelled for two months until he reached the border and explains how he often went days without food or water and that it became more difficult to continue, but one thing kept Juan Carlos from giving up: freedom. He says, 
"I travelled for two months with my friends and we were on our own. We walked, hitch hiked, took buses, and did anything we could to reach the border. We went without food for days and had very little money. Once we reached the border, we thought the struggle was over and we could almost taste our freedom, but when we got there, we went straight to the center and were there for three months. We finally were granted asylum and we all work full time jobs." 
Conference attendees immersed themselves in Central American culture, not only with the talks they heard from Martina and Juan Carlos, but when they had the chance to participate in a prayer service dedicated to the lives of the Salvadoran martyrs. This service included traditional music and language used in prayer in El Salvador and is a tradition at the Teach In.
Olivia Giardino '20 was one of the 14 Regis Jesuit girls to attend the Teach In. 
"I was inspired to go on the trip because I feel passionately about social justice. I learned that people's beliefs and values in the Catholic faith does not have to fit into a perfect box," Giardino says of her decision to attend the conference, "There's many ways to advocate for the rights of all people and all faiths while also practicing your own. Everyone deserves their own opinion and as a community we continuously supported one another."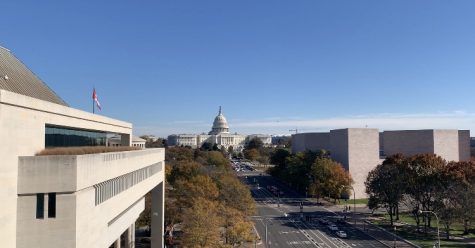 She also explains that what she experienced was "both eye opening and inspiring." The Teach In also "showed [her] the values of each person striving and advocating for what they believe in." Giardino says that she experienced a true community and how it was inspiring to be in such a big community of people who were "fighting for the same things."
 She plans to apply what she learned by promoting the trip and the things she learned from others with the people around her. "Every single person deserves human dignity and acceptance. I will continuously advocate for those who are not being treated this way and I hope to make a change one step at a time."
The trip itself consists of attending the conference for two days to gain more knowledge about social justice issues and on the final day, travelling to Capitol Hill to meet with state congressmen, congresswomen, senators, and representatives. During their time on Capitol Hill, the girls who attended the conference had the privilege to meet with members of Representative Jason Crow, Ken Buck, and Diana DeGette's staff, and with members of Senator Michael Bennett and Cory Gardner's staff, to discuss ways to reform social injustices. 
"It was super intimidating even though my group had spent most of the night before preparing our talking points, but it was empowering being able to have a voice in current issues because we are the future of this country," said senior Fiona Deck who met with Senator Bennett's staff to advocate for immigration reform.
The Ignatian Family Teach In is a once in a lifetime opportunity that is unique and gets students involved, or more involved, in social justice issues happening in our country today. Not only do you get to learn more about current events, but your voice gets to be heard. Spending time advocating on behalf of the voiceless in our country is an empowering experience and students who are passionate about social justice should considering taking part in this opportunity to "get a life serving in solidarity."