Hockey: Securing a Stable Victory
Story by Jake Stuart '20
Picture by Sophia Marcinek '20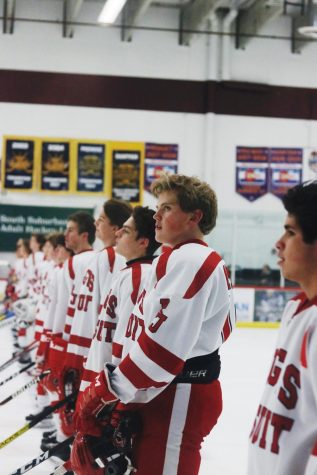 It didn't take long for the Raiders to get some sweet revenge. After falling to the Coyotes 4-1 just eight days ago, they made a statement tonight with a 3-2 victory.
The game looked the part of the Valor game just a night ago with the Raiders falling behind 1-0 in the first period, after Hunter Hawkins got his third goal of the season. But just like last night, Robbie Dembeck had something to say about it. He responded with his fifth goal of the season, and only goal of the second period, to get the Raiders on the board.
It was anyone's game with just one period to go. The Raiders, waisting no time, took the lead at the hands of the speedster Kai Oganeku. His third goal of the season came 51 seconds into the period. The Raiders seemed destined for the victory on the power play and up a pair of goals midway through the third.
But, in remarkable short handed fashion, the Yotes got themselves right back in the game. Drew Fehr scored his 7th of the season, but it was ultimately not enough. The Raiders held on for their 7th win of the season and went undefeated on the weekend of play. Next up is Aspen on Friday at home.
Watch tonight's live broadcast here: https://www.nfhsnetwork.com/events/regis-jesuit-high-school-aurora-co/gam74a2582eb9