#endSARS Finally Comes to an End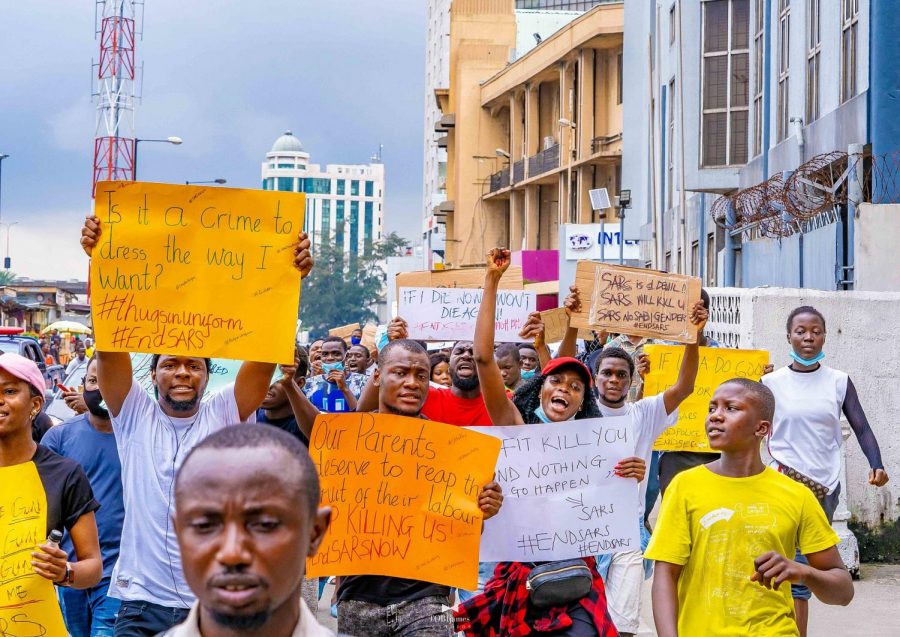 Arsema Zerabruk '22
December 17, 2020
The police force SARS, which has been active in Nigeria since 2017, has finally come to an end in late October after the viral hashtag uncovers the horrors of their brutality.
SARS stands for the Special Anti Robbery Squad, which was established in Nigeria to lower crime rates. They are a "police force" who never wear badges or proper identification and are responsible for brutally murdering 51 citizens and injuring many more trying to dissolve aggressive protests. The police force profiles young Nigerian men who have tattoos and not traditional haircuts and trendy westernized clothing.
Nigerian musician, Rema went to twitter to say "dreads don't mean I'm a criminal." with a picture of his hair now cut short in order to avoid profiling.
The younger generation of Nigeria, in fear of being the next police brutality victim, started the hashtag #endSARS in hope to attract attention from social media posts in order to spread awareness of how awful things were in Nigeria. This hashtag sparked protests both in and outside Nigeria. Many celebrities such as Rihanna and Beyonce have used their platform to bring awareness and support the protesters in Nigeria hoping to make a change. At first things were peaceful, but there was no progress. In return, the protests became more aggressive and violent.
"By the 20th of October, 2020 the world watched as the Nigerian government shot protests at the Lekki toll gate" states activist website Carrds.
The Nigerian government was under supervision worldwide under the watchful eye of the hashtag. After seeing how bad things truly had became, President Muhammadu Buhari agreed for dissolve the unit with immediate affect on October 12,2020 but this only angered protesters because the officers in the force would only be relocated under a different position and title. After working with the people and gathering their opinion, Buhari and his people came up with a middle ground hoping to please both the officers and the citizens.
"The Nigerian police force would work with human rights groups and civil society organizations to investigate cases of alleged human rights violations" states Aljazeera.com
SARS since then still has a prominent grip over Nigeria but has significantly loosened up. Police brutality has been apart of the American culture as well as many other cultures worldwide and is an issue we face everyday. Slowly, people are using social media as a way to spread awareness and inform others of injustices worldwide. Twitter user PRAIZ tweeted "Just to be clear, if we don't #ENDSARS now, just know the government will come at us and hit us harder and with everything they've got.#EndPoliceBrutality".