Meet Coach Kelly: New strategies for new beginnings
Varsity girls' basketball has always been one of the school's star sports. With former famous players and games, the need for a varsity girls' coach who not only played but could teach was vital. With such an important sport, the shoes would be hard to fill, but as the basketball season approaches, we finally get to meet the new girls' varsity team coach: Jordan Kelley, someone who more than fulfills the requirements to lead the team and everyone on it all the way to state. 
Coach Kelley, born and raised in Gillette, Wyoming, has played basketball almost all her life. She competed all the way up through high school, growing a strong passion for the game, and then moved on to also play in college. She played a total of five years of college basketball between the two universities she attended. After that she came to Denver, Colorado, not only to start but also to coach her very own club program for girls' basketball. She started in 2016 coaching all ages, and during the time she wasn't coaching her own club program, she was acting as assistant varsity coach for our team. In 2018, she moved in order to be the assistant coach of the girls' basketball team at the University of Idaho. The prestige of Regis Jesuit High School brought her back three years later to act as head coach of the varsity team.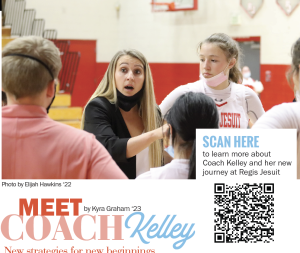 She loved the idea of not only being able to coach the students here but to be able to impact their lives, helping them to pursue all their dreams not only on the court or in the off season, but in all their hopes for life in general. She wants to focus on the program by creating a culture that brings both success and happiness. She believes that a positive community, teamwork, strength, and a good mental foundation will really bring the whole team together. She wants the team to not only seek their own successes but also to help their teammates succeed, learning to support each other while they go along the same journey. 
Coach Kelley of course hopes to bring the girls to state this year but emphasizes it must be done the right way, using positivity and support to aid any struggles the team might have this year. 
She plans on readjusting some old habits on the team, habits involving not only their view on the world but also their playing style. She also plans to implement more of Regis Jesuit's philosophy in everything she and her team does. 
She's most looking forward to simply getting to know the girls on the team and seeing them improve. While confident that the team could start with how college level basketball teams are coached, she believes that teaching from the very fundamentals is the best way to make sure they everyone is on the same page. 
Her final wish for this season is to see the team have fun, improve, and win games along the way.