A New Addition to the Family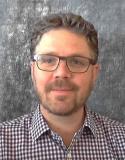 This week, Regis Jesuit welcomed a new member to its family, Mr. Brian Hutchinson. Mr. Hutchinson will be filling in as councilor for Mr. Geniesse, who unfortunately had to take another job closer to his home.
Although Mr. Hutchinson is new to Regis Jesuit, he has much experience in the realm of counseling. "I received my undergraduate degree in Religious Studies from Ithaca College, and my Masters degree in Counseling Psychology from Regis University. I most recently worked as a community based counselor and therapist at a community mental health agency in Adams County. Throughout my life I have worked as a teacher, a counselor and direct care provider for adults with developmental disabilities, a professional actor and performer, and a customer service supervisor and manager," said Mr. Hutchinson.
"I am inspired by the opportunity to work with others directly, building helpful and growth focused relationships based in mutual trust, respect, and compassion, and honoring the worth and dignity of every individual," says Mr. Hutchinson.
In an email he sent to his new students he also wrote, "I love the outdoors, movies, spending as much time as I can with my family, the Broncos, and singing and acting on stage and off." Mr. Hutchinson will also be assisting Mr. Pantoja with the Drama Club and theatre department.
"I'm ready and excited to get to know my new councilor," says Connor Pettit, a current Regis Jesuit Freshmen. "I'm ready to hear what advise he has to tell me as I go through these next years at Regis."
The Regis Jesuit community is looking forward to getting to know Mr. Hutchinson and is excited to welcome him into our family.